I had been babbling about the opening of Haddingtons for a couple weeks before we finally made our way down to try it out. Sean and I had been deep in the throes of our new cocktail habit, and I tried to lure Sean downtown with the promise of "seeing how the professionals do it." We were seated nowhere near the bar at the time, but we certainly enjoyed the fruits of the professionals' efforts. The craft cocktails were the draw for me, but the food is every bit as enticing. We've been back repeatedly, at all hours of the day and night, and have yet to leave disappointed.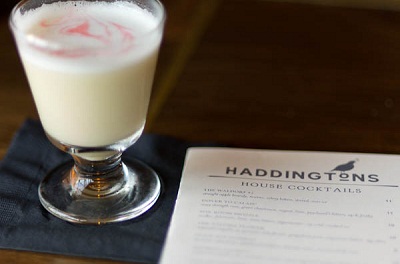 Most recently, we stopped by with a friend of ours during SXSW. We're of a certain age, and collectively decided that rather than rawking as hard as we could rawk all day and all night, we'd have a mid-afternoonsit-downto rest our weary legs. One afternoon, Haddingtons provided exactly the brand of relief we were seeking. Plus we finally managed to sit at the bar.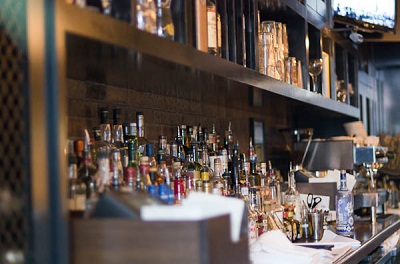 Haddingtons bills itself as an American tavern, and while I have no real frame of reference, I'm told it is not unlike a traditional British pub. For my part, I'd call the aesthetic classic without being fussy. It's dark without being dingy, dark-wooded but not overwhelmingly masculine. There are a variety of small rooms appointed with fixtures and finishes of differing styles, and it gives the place a sort of comfortable if mildly labyrinthine feel. And the bar staff and wait-staff are knowledgeable without the dogma or pretension that seems to plague some craft cocktail joints.
Our drinks during our SXSW refuge were numerous and varied, and I'm sorry to say, my details are a little sketchy at this point. The cocktail menu is divided into house cocktails - homegrown originalsand classic cocktails - Haddingtons take on tried and true classics.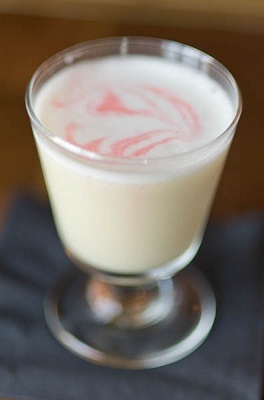 Dover to Calais (navy strength rum, Green Chartreuse, orgeat, lime, Peychaud's bitters) – Sean has this every time he goes – it's his favorite.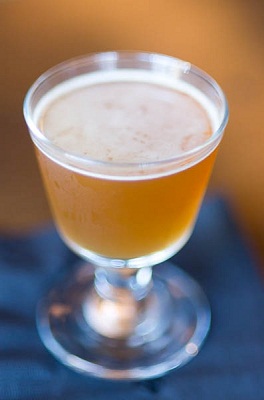 Devil's Moustache (mezcal, Cynar, lime, orange bitters) – clean and smoky – possibly my new favorite, though with a changing menu, who knows how long it'll be there. This makes me want to procure a bottle of mezcal … and Cynar.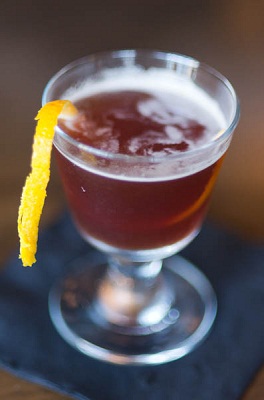 Blood and Sand (scotch, Cherry Heering, sweet vermouth, orange) – this is one from the classic cocktail menu. If you enjoy scotch but have never tried it in a cocktail, this one's a dandy to try.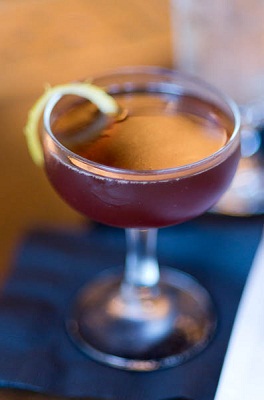 Conundrum (blue corn whisky, sloe gin, Fernet Branca) – the first sip was a bit bracing, but follow-up sips allowed for greater appreciation. I did not dislike it, but I would probably not order it again. Perhaps my palate just wasn't ready.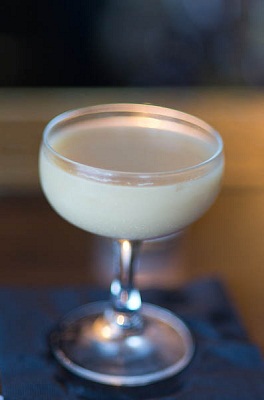 Japanese Cocktail (cognac, orgeat, aromatic bitters) – This is another one of the classics. Sean was totally in love with this drink. I'm actually surprised he's not tried to make it on his own yet.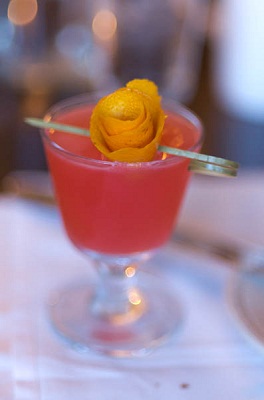 The last and most lovely of our drinks is one that our out of town friend ordered. And I'm sad to report that I absolutely cannot remember the name of it. You may wonder how it is that any self-respecting man can order a drink that pink. But let me just tell you, it was not long before he had a very pretty woman wander up to find out what he was drinking, and they carried on for quite some time. I'm pretty sure Sean and I became so much background noise atsome point.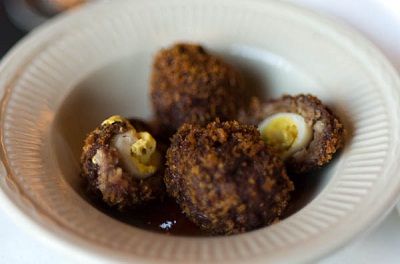 We ordered a few appetizers because (a) they're wonderful, and (b) it just seemed like good policy not to down several strong cocktails on an empty stomach. I love the Haddington's rendition of scotch eggs. They're pickled quail eggs coated in a light layer of sausage and delicately fried.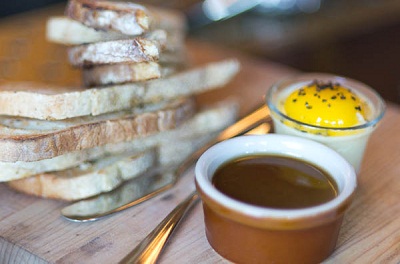 I'm personally completely in love with their toast pots. My very favorite is the truffled egg custard. It's beautiful sunny egg yolk stares proudly from its perch atop a decadent, ridiculously creamy custard. Lean in to take a bite, and you're overwhelmed by the luscious truffle aroma. Sean's favorite (and my very close second) is the duck liver mousse. It's wicked-rich and slightly sweet with a livery undercurrent that makes you wonder why you loathed liver with such fervor as a child. These are accompanied by lightly grilled bread on which you can liberally smear your custard and mousse.
We don't have photos to back it up, but I can personally attest to the fact that the duck meatloaf is wonderful, and Sean is quite fond of the British meatballs. The brunch, is hearty and well-prepared (the sausage in particular is powerfully delicious), and fear not, it is accompanied by brunch-friendly drinks.
Properly fortified we barreled back out into the festivities. Our legs were rested, tummies full, and souls well-lubricated. I cannot recommend this place enough.