In late May, early June of this year, Sean and I headed out to London for a couple weeks. We took a few side trips, but generally, we spent the majority of our two weeks hunkered down in London, taking in the sites and tooling around the town. We utilized the services of HomeAway and booked an apartment for the duration of our two week stay. The apartment was small, but functional and very conveniently located near the Elephant and Castle tube station. Amusingly, we were repeatedly told we were not staying in the nicest part of town. I will say, the crowd was young and the sounds of revelry often nudged their way in through our windows, but I never for a moment felt unsafe.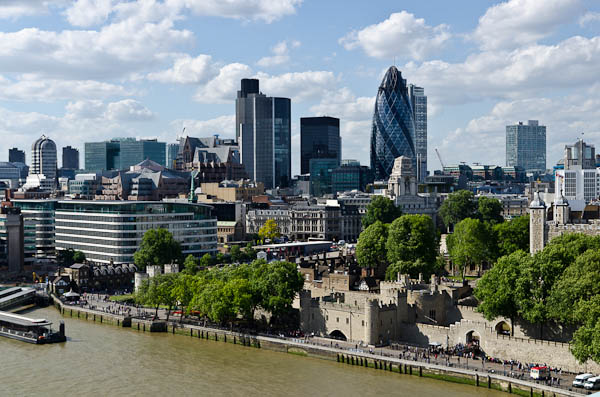 Those of you who travel overseas often will understand what I mean by jet lag. We left Austin at 4 in the afternoon and arrived in London around 10 the next morning. The idea is that you sleep a bit on the plane. Unfortunately for us, neither of us managed to catch even the tiniest hint of rest. We creaked and groaned as we deplaned and made our way through customs at Heathrow. There were a few tiny bumps and snags, but we made it to our apartment and met the very organized and quietly kind woman from whom we'd rented the apartment. Keys were doled out, pleasant words were exchanged, and we both fell blissfully - but against all advice - asleep.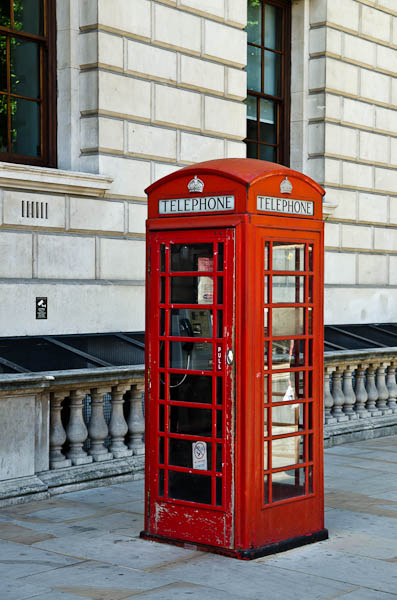 After an all too brief nap, we wandered out to a Carphone Warehouse to arrange for a local pay-as-you-go cell phone so we'd have a relatively inexpensive means of communication while we were in London. The process was painless and proved handy. For about the same amount of money as it would have cost to convert one of our phones, we purchased an inexpensive cell hone and several hundred minutes.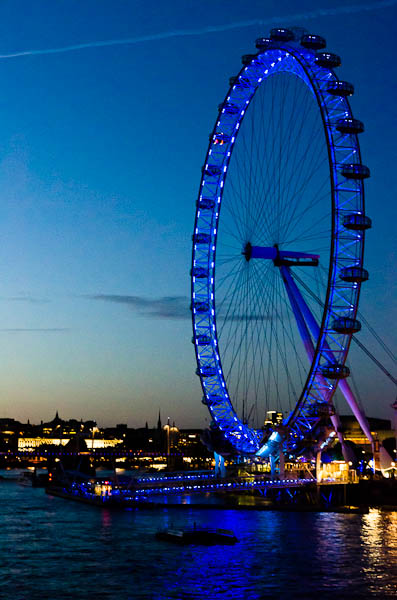 We headed out to the Waterloo Bar + Grill and had an absolutely wonderful dinner. Despite our bloggerly leanings, we elected to treat ourselves to this first meal without the nagging need to properly photograph it. The decision was a good one. It gave both of us a chance to relax a bit and treat our tired selves excellent food without an agenda. We took a nighttime stroll down to the South Bank and saw the iconic London Eye and of course Big Ben and Parliament. And don't you just know it - like the silly Americans we are, we were Chevy Chase-ing with implacable glee.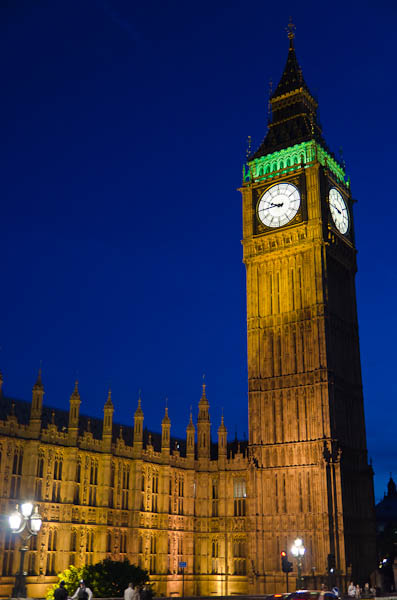 The next day, now fully rested, we stocked up our tiny refrigerator and medicine cabinet with groceries. Because we have no idea how to relax, we barreled straight away to Trafalgar square. We couldn't have asked for a prettier day. The sky was ridiculously blue, and the temperature was 30-40 Fahrenheit degrees cooler than what we had been wallowing in back home. In fact, the cooler days coupled with the gusty breezes made these two sort-of-Texans hunt down some jackets.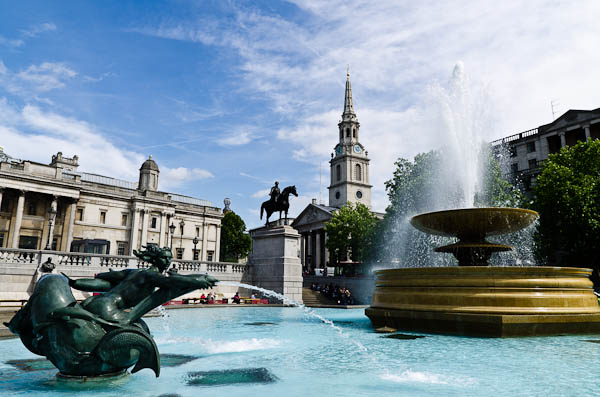 Trafalgar square was, of course, beautiful. We saw Nelson's column, an Olympics countdown clock, an arty ship in a giant bottle, and more tourists than I know what to do with. (I get it, I'm part of the problem here, but I cannot help my antisocial leanings.) After a thorough tour of the square, we took a lengthy stroll through St James Park, gawking at beautifully arranged gardens and all manner of waterfowl. After our very pleasant stroll under a sun that in Texas would've been punishing rather that soul-warming, we decided that we could probably handle a proper tourist attraction. We made our way over to Westminster Abbey. We walked all around, admiring its ornate exterior. Upon noticing the ridiculous lines though, we hatched a new plan. We would hit the popular tourist attractions first thing in the morning and shift to less popular affairs (museums and such) in the afternoons.
With that, we headed over to the National Gallery, and spent several blissful and oddly uncrowded hours gawking at Van Goghs and Monets and Cezannes and a lonely but lovely Vermeer. Every time I visit an art museum, I am struck by the same thought: I wish I understood well enough the artist's societal and/or personal context and the mastery of a given skill or school of practice to properly appreciate what I'm looking at. Either way, I think Sean and I had a good time.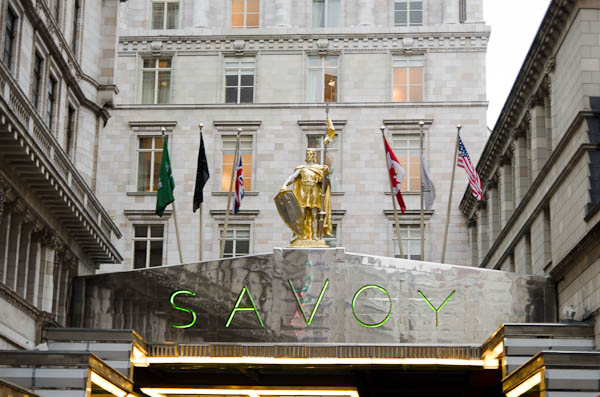 We puttered around Covent Garden, watching street performers doing impossible things and seeing musicians taunt/serenade would-be covert lovers. Given Sean's cocktail research over the last several months, we thought it would be interesting to make a jaunt over to the American Bar at the Savoy. Regardless of being neatly dressed in button-down shirts and non-tattered jeans and dark leather lace-up shoes, we were denied access based on our "sports attire." Regardless, we were told, the bar was full.
Deciding we were really more hungry than in need of cocktails, we headed over to a nearby Wagamama for lovely elderflower sodas and big bowls of comforting udon noodles. As an added bonus, they didn't seem to give two shits about our "sports attire."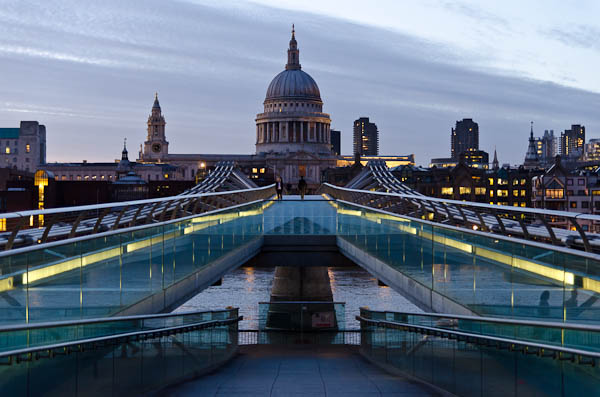 One of my favorite London experiences was our lengthy walk that evening. We didn't really have a clear picture of where we were going, beyond to see the Millennium Bridge at night. The whole walk was incredible though. London is oozing so much history and culture, it's almost blase. To us though, with our two hundred-ish year old country, it's beyond incredible. A quiet, late-night stroll netted us the Southwark Cathedral (at least its exterior), the Rose Window of the ruins of the Winchester Palace, and some ornate old English galleon (a replica of the Golden Hinde, a ship known for circling the globe between 1577 and 1580) that (probably because we absolutely weren't expecting it) seemed completely random. We wandered long enough that we were hungry again and split a beef and stilton pasty from a stall in a tube stop. I can't even describe how perfect it was.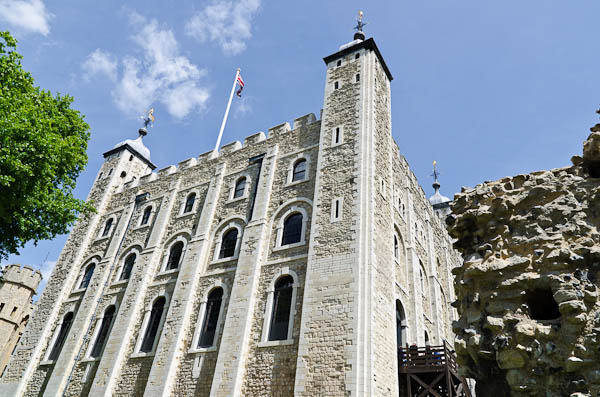 The next day, we decided to go full-on tourist and headed out to the Tower of London. You hear about all these things so often from beyond the great blue ocean that they almost become worn and trite. My advice would be to drop the preconceptions and embrace the fact that the history is fascinating.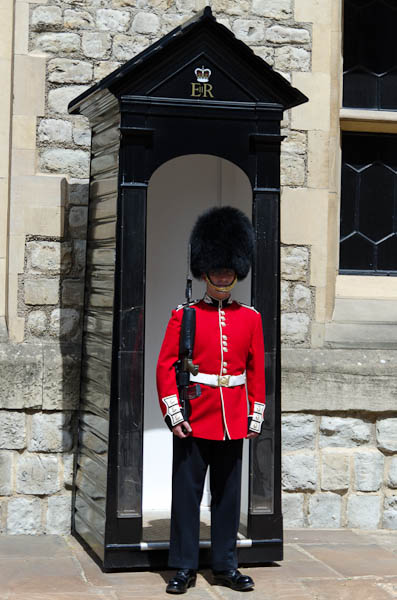 At the urging of several guide books, upon arriving at the Tower of London, we headed straight to the crown jewels. I couldn't not have made it plainer to Sean that we were going for him and that I couldn't possibly care less about some rich family's overwrought jewelry. I was wrong. It was impressive. Intricate crowns, huge diamonds and sapphires, and ornate dinner things were all laid out for us to see.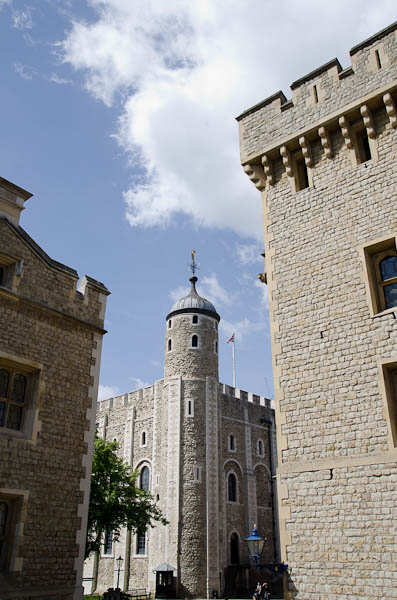 After visiting the jewels, we spent several hours wandering around various towers and walkways reading information placards and forgetting half of what we read almost immediately.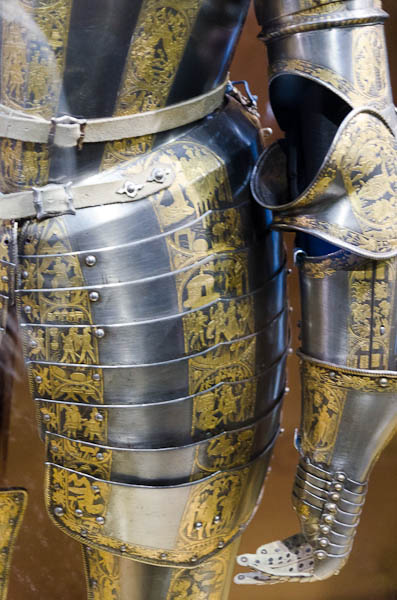 Feeling a bit peckish, we decided to see what was on offer at the Tower cafe. We shared a sausage roll and some chips (read: fries). They were startlingly tasty. Fellow Americans take note: food served at national attractions can be more than just a means to an end - it can actually be enjoyable.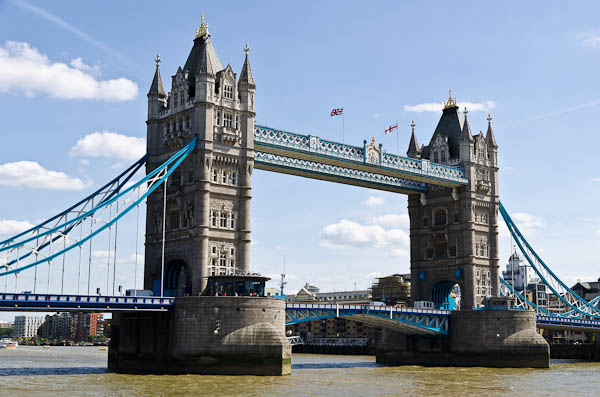 After checking out the Tower Bridge, we wandered around some more, sort of unwinding from our busy day. For dinner, we dropped into the Marks and Spencer store and picked up some bread, a lovely selection of Italian cured meats, and a slab of very pretty English blue cheese, called Blacksticks Blue. Our European experience for the evening was taking a crack at using our washing machine. We were warned that it was only half-size … half of what, I'm not certain. It was tiny. I'm sure as an American, I'm spoiled by our ability to spread out and take up space. London is, on the other hand, on a smallish island filled with a huge number of people. As it was, we were each able to fit about one change of clothes into it. It was late when we started our little load of laundry. For such a diminutive appliance, it made an incredible racket. The spin cycle was set at 1200 RPM, and I'd have sworn there was a helicopter landing in our room.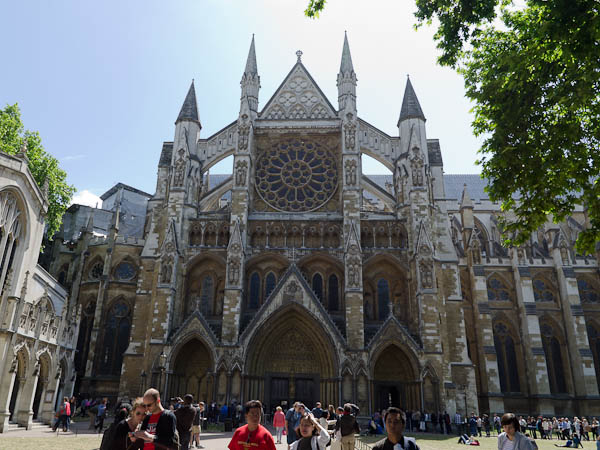 Westminster Abbey was our target the next morning. Sadly, we weren't allowed to photograph the inside of the abbey. The abbey itself was incredible. No surface was left unadorned. It was honestly difficult to take it all in. I am not a religious person, but the notion that these sorts of things were "built to God's glory" seems more accurate here than in any church of the small local churches I attended while growing up. One of the most interesting things were the graves and monuments. Westminster Abbey has a whole host of famous corpses. Among them are Sir Isaac Newton, Charles Darwin (!), Joule and Faraday. There were more authors than I'll ever remember - Lewis Carroll, CS Lewis, TS Eliot, Thomas Hardy, and on and on. Somehow, even Laurence Olivier got himself buried in the Abbey.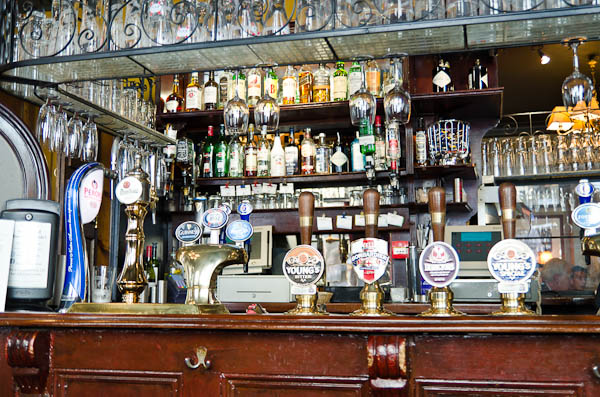 Next, we trundled over to Chelsea Physic Garden. It was small but pleasant enough. The pharmaceutical garden and the small room housing carnivorous plants were favorites. From there, we headed to the river and walked a portion of the Thames Path to see Battersea Power Station. Then we headed to the Guinea to have our first actual pints. I had the Young's Bitters which were pleasant enough, but Sean had the seasonal special, whatever it was called, and it was glorious. The pubs were initially a bit confusing to us. We'd walk up to a random pub and see people spilling out into the streets, beers in hand. I am notoriously crowd-averse, so we had been avoiding them. We learned two important things though. First, just because the streets are full of people, doesn't mean the inside is overcrowded. Second, the fine weather we were experiencing is a rare and short-lived thing. No Londoner wants to be sitting inside a dark pub on a day like that, hence beer in the streets.
After an excellent dinner at Polpo (more on that later), we rode the London Eye as close to nighttime as we were able. At this relatively northern latitude, the summer days are very long indeed. It was full-on daylight bright at 5 in the morning and the sky was only just darkening at 9 at night, so near 9pm ride was actually fairly bright.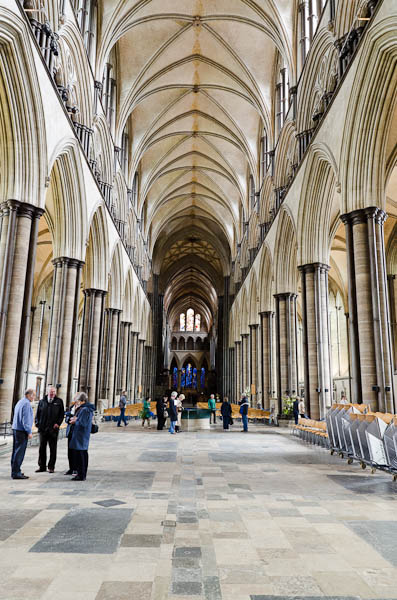 The next day, we headed out of town. Our intended destination was Stonehenge, but we decided to head out to Salisbury early so we could wander around town a bit before our tour started. After an easy train ride, we walked a short path to take photos of the Salisbury Cathedral across a sheep-strewn field. A light rain began to fall and a strong wind began to blow. It was shortly thereafter that we discovered our lightweight umbrellas (purchased specifically for this trip - there were previously no umbrellas in our house) were nigh on useless. A kindly gentleman chatted with us a few minutes about the llama that used to live there to keep foxes away. I asked him if it had worked. He shrugged, grinned, and told me he didn't know, but that he believed anything he was told so we shouldn't necessarily listen to him. We wandered back into town and had a relatively cost-effective and reasonably tasty lunch at the Old Mill restaurant.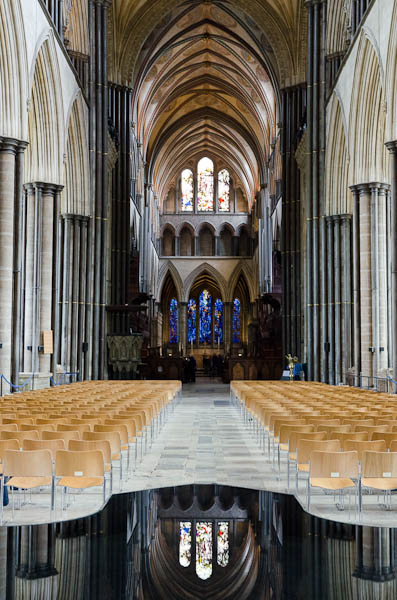 We still had some time to kill before our Stonehenge tour, so we went inside the Salisbury Cathedral. The church was smaller, but very pretty. And, we discovered after we got there, it had a very well preserved page from the Magna Carta on display. From Salisbury, we met up with our Stonehenge tour group and the best of guides, Pat Shelley.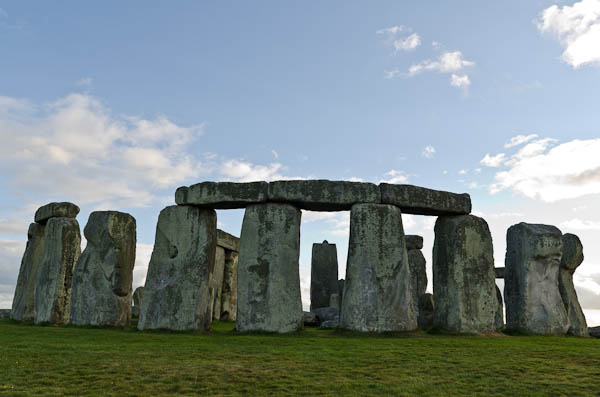 He drove us to Woodhenge and explained how Stonehenge isn't actually a henge at all. He showed us the Cursus and the barrows (burial mounds). And he eventually walked us up the original avenue that would have been used in Stonehenge's heyday to get a mounting and theatrical view of the stones as travelers crested the hill.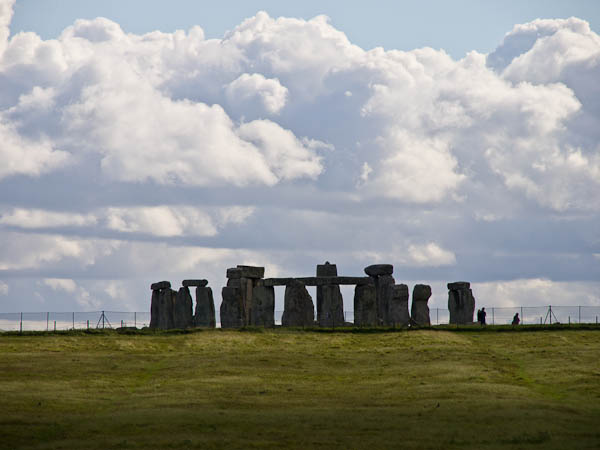 He filled us with more information than I could even pretend to remember. We were allowed to traipse around among the stones (so long as we in no way touched them as they're covered with a sizable quantity of species of lichen, many of which are quite rare). During our Stonehenge experience, I was rained on, windswept, and very nearly frozen to the core, and I would still say that tour was one of the highlights of our trip.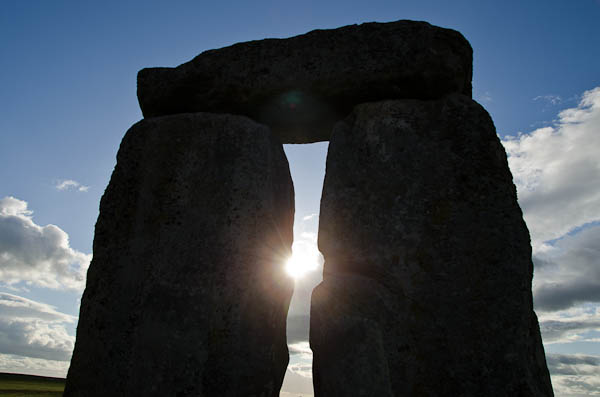 The week was winding down and we were wearing out, so we took the next morning easy. Around midday, we decided to head over the Borough Market to browse the stalls and fill up for lunch. We had a delicious chorizo, piquillo pepper, and rocket sandwich courtesy of Brindisa. We had some delicious gnocchi and pesto sauce from a small Italian booth specializing in fresh pastas, and Sean wrapped it up by having a very dense, rich brownie. All told, we enjoyed a highly satisfying lunch.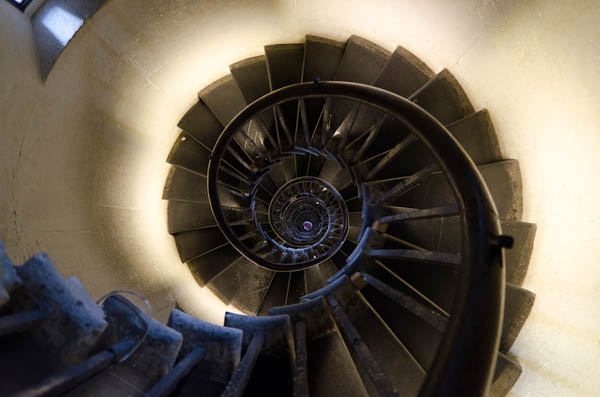 We had sort of had our fill of cathedrals for a bit, so instead, we decided to head over to the Monument. The Monument was built as a memorial to the people and buildings destroyed in the Great London Fire of 1666. We walked up its many spiraling steps (311) to get up to the viewing platform to see a wonderful panorama of the city. it's an open air platform, and you're essentially protected from plummeting to your death by a metal rail and some wire meshing that rather reminded me of chicken wire. The views really were incredible and after we caught our breath, cooled off a bit, and took our fill of pictures, we headed back down to the bottom where we were each awarded a certificate for our trouble.
Even on our easy day, we couldn't sit still, so we headed next to Tate Modern. It stays open a bit later on Friday, so even though it was already late in the day, we had plenty of time to wander the galleries at our leisure. We saw Picassos, Dalis, Pollacks, and Monet's Water Lilies. We saw some truly fascinating photography exhibits. It was well past nine by the time we were through.
I don't think either of us realized how much our daily rhythm was synchronized to the movement of the sun. It often didn't occur to us to start looking for dinner till after dark. It was well past 9 when we left the museum, and many of our eating options were shut for the night. We knew of at least one place that would be open though - Fryer's Delight. It's supposed to be a cabbies' favorite for fish and chips. I don't know about all that, but we certainly enjoyed it. The chips especially were incredible - Sean was particularly enamored with the less-sweet-more-vinegary catsup they were served with. Our fish was fresh (I had cod, Sean had haddock) and the breading crispy.
Part 2 coming soon … hopefully!