Everyone has heard time and again how awful British food once was and how it's much better now. I cannot attest to the former, but I can say that we had no trouble finding a delicious meal during our stay in London.
We were fortunate to rent an apartment during our stay in London, so we had a small refrigerator that we could keep stocked to accommodate our tourist-random schedule. Periodically, throughout our two week stay, we'd wander over to the grocery store across the street and grab drinks, bread, cold cuts, and various random food items that we wouldn't typically find on our American store shelves. The refrigerator also enabled us to pick up random perishable goods at different markets (Marks & Spencer, Neal's Yard Dairy) to be consumed as it suited us rather than immediately.
While out and about, though we often had means planned, we also partook of whatever struck our fancy at any given time. As mentioned previously, eating at the various museums and sites that we visited turned out to be much less dicey than it is here in the States. Pretty meat pies, rich sausage rolls, and a variety of delicate pastry were often available to us, as well as an interesting selection of drinks. We also grabbed sandwiches several times from a place known simply as Eat. Eat bills itself as a "real food company. " They have soups, sandwiches, salads, drinks, and baked goods. Their items are packaged, but clearly freshly made (nothing more than a day old, according to their website), and the variety was impressive.
We also spent some time seeking out the British things you always hear about. We had fish and chips at Fryer's Delight, which were exactly what we had hoped for. We had steak and kidney pie at Newman Arms. We had our first properly pulled pints at Guinea Pub. And of course, Laura helped us find our way to a nice cream tea and later on to some black pudding.
All of this was lots of fun, but there were three meals that really stood out to me on our trip.
About three days into our stay at London, we happened to be in the neighborhood, and though it was a little early (only 6!), we decided to stop in at Polpo for dinner. It's a good thing we did. We had no reservation and within a few short minutes of having been seated, the place filled to capacity, and by the time we left, it was overflowing with interested patrons. Polpo models itself loosely after a Venetian bacaro. A bacaro is essentially a Venetian bar, usually offering drinks and local traditional snacks. From my not-terribly-worldly-wise perspective, Polpo seemed rather like a highly refined Italian version of a tapas bar. Despite somewhat mixed reviews, I was eager to try it. Plus, though we didn't partake, they have a Campari bar. How cool is that?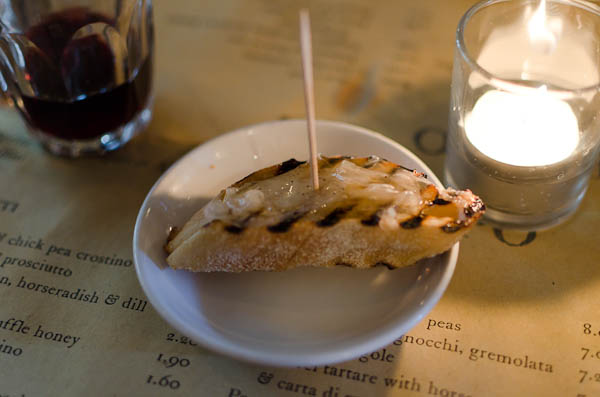 We started our fun and highly toothsome dinner with toast with lardo and white truffle honey. Despite my affinity for pork and my willingness to sample nearly any culinary curiosity, I had never had it before. Lardo is essentially cured pig fat, usually served sliced very thin atop warm bread, the heat from the bread slightly melting the fat. This is exactly the effect that Polpo achieved with their serving of lardo. The drizzling of light, fragrant honey was a beautiful pairing with the rich, herby fat.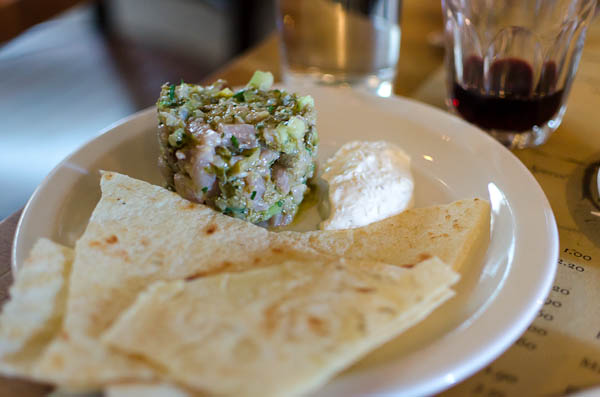 Next we were served mackerel tartare with horseradish. Uchi has taught me to love mackerel. Polpo showed me that that love was intercontinental. The dish was well-seasoned and nicely executed; believe it or not, the chef had enough restraint with the horseradish that it complemented rather than overpowered the fish.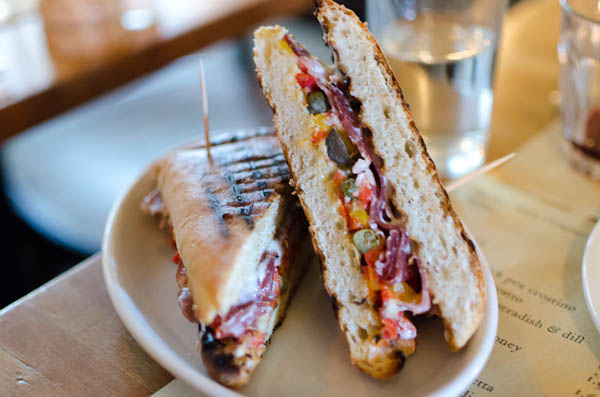 Our third course was a cured pork shoulder and peperonata panino. This was not our most novel course, but the sandwich's innards were tasty and the bread pleasantly crispy.
Our vegetable was roasted asparagus with anchovy butter and hard Italian cheese. The uber-savory anchovy butter was perfect alongside the plump stalks of slightly firm asparagus.
Next we had cuttlefish and ink gnocchi, a tar-black dish that we haven't had the pleasure of eating since rambling along the Ligurian coast during a trip to Italy several years ago. It was everything I hoped for.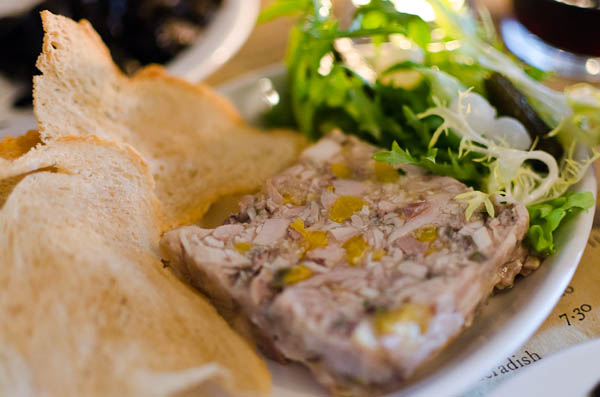 Then we had a rabbit terrine with what looked to be a mostardo. Again, the execution was perfect. Fatty slightly loose terrine was, if memory serves, dotted with little bits of fruit.
We couldn't decide between desserts, so we shared two, a flourless orange and almond cake with mascarpone and a ricotta and chocolate crumble. Both of these were exactly my kind of dessert: rather atypically flavored and not overly sweet.
It was on our anniversary that we lucked into another of our favorite meals (Yalla Yalla) and then followed it up with the meal I had anticipated for weeks (St John).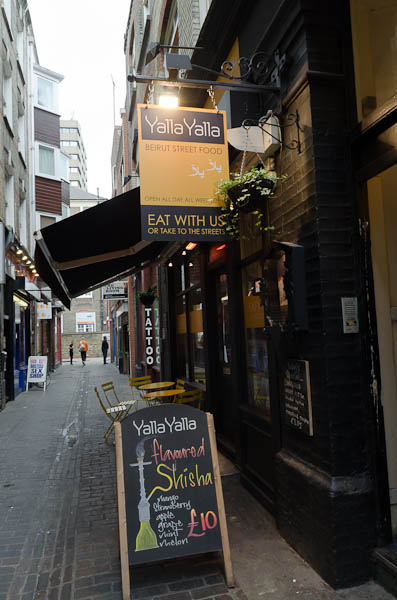 Yalla Yalla, a place that serves Beirut street food, was actually (if you can believe this) recommended in one of our guidebooks. The Wardour Street area is apparently known for its excellent variety of international cuisine, and while it probably would have been wiser of us to wander around and choose a place that interested us, I couldn't help but have a plan in place. Yalla Yalla (which my Jordanian friend tells me means "let's go, let's go!"), was full of wonderful items to sample. I could have eaten there several times and not gotten to try everything that caught my eye. The place was incredibly tiny. We felt a little gawky and out of place blocking traffic while we waited for a table to clear.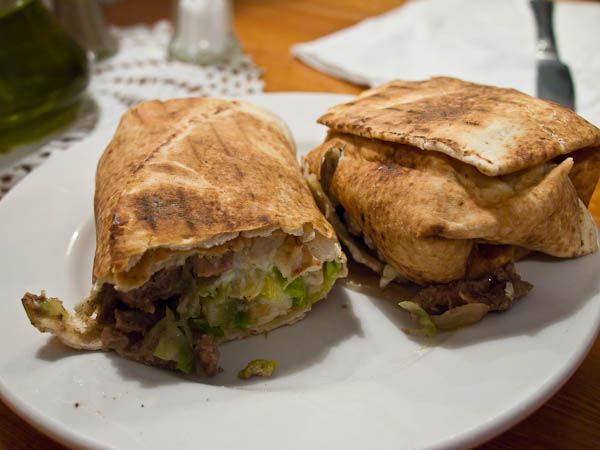 We each had wraps as our main meal. Sean had chicken shawarma and I had lamb kofta. Both were beautifully seasoned and served with a light but very intense garlic sauce.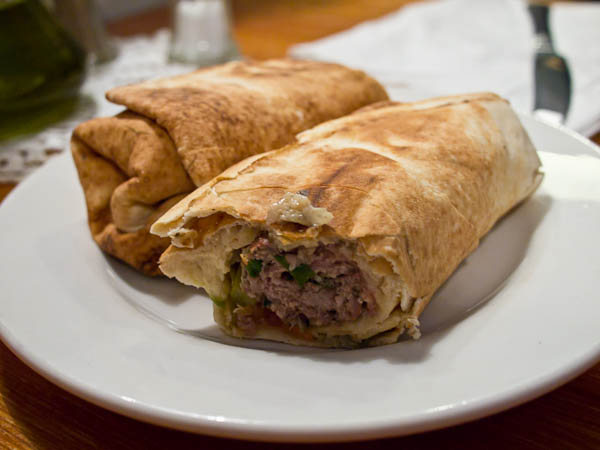 We shared a potato dish called Batata Harra. Our friend Laura thought we were hilarious because we had eaten all this great stuff and all we could keep gushing about was this bowl of potatoes.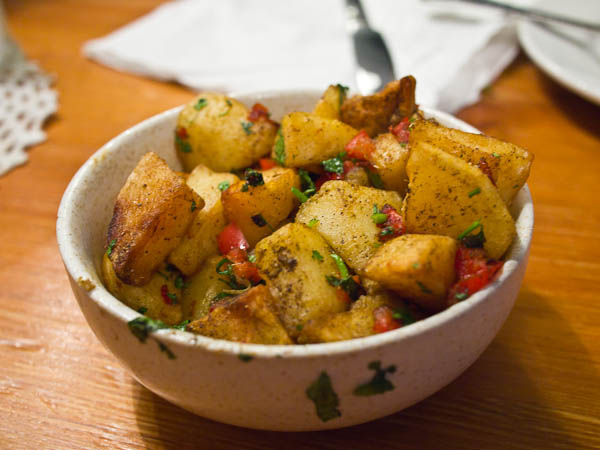 Finally, I tried the lamb sfiha, which was essentially seasoned ground lamb served on a flatbread and drizzled with pomegranate molasses. While I enjoyed the flavors very much, the bread was so incredibly tough that I saved my tummy real estate for kofta and batata harra.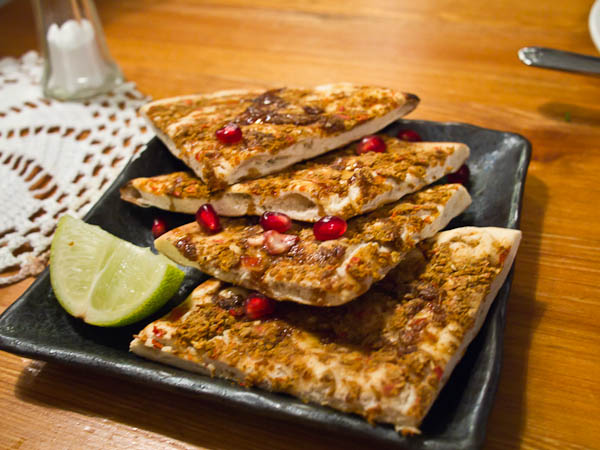 It was really very unfortunate that we enjoyed Yalla Yalla as much as we did because we ate so much that later that night, we weren't especially hungry. We had reservations at St John for our big anniversary dinner, reservations I had made almost as soon as we had decided we were going to London. St John is one of Fergus Henderson's restaurants. As the man responsible for bringing offal to the masses and changing the way we think about eating a pig, I have nothing but reverence for Mr Henderson.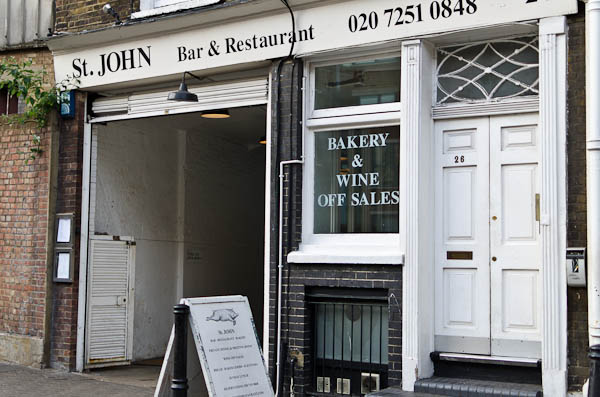 Housed in what used to be a smokehouse, St John has whitewashed walls and is spare in decor. We were seated at communal tables and served by polite but succinctly efficient waitstaff. I could not have been happier. There was no fuss, no dinner theatre … I'm not even sure there was garnish - just plate after plate of locally sourced, decidedly British, perfectly-prepared food.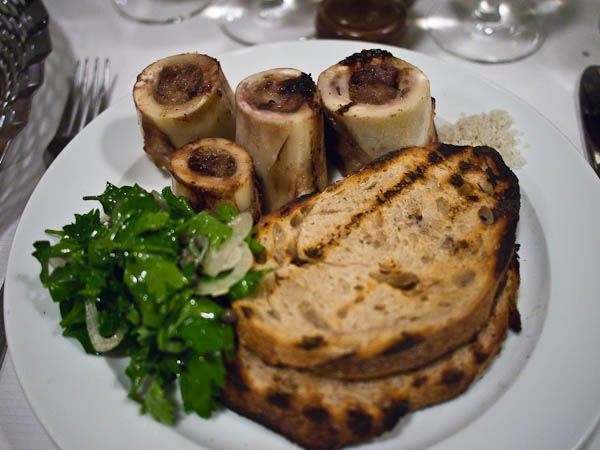 We started with the bone marrow with parsley salad, of course. As something of a signature St John dish, I sort of felt like we had to have it. Bone marrow is rich and spreadable. We slathered it on hunks of toast and ate it with bites of acid-dressed parsley salad to help cut the fat. My one apprehension was that despite the lack of pomp at the restaurant, generally speaking, the British appear to have beautiful table manners. I, on the other hand, do not. I tend to approach food consumption from a very practical viewpoint, often resulting in an utter lack of grace. This was especially uncomfortable given that we sat shoulder to shoulder with a table full of locals. I tried my best to mimic our table mates, but in the end, those bones were getting picked up and hollowed out so that I could extract every last luscious nub of marrow from them.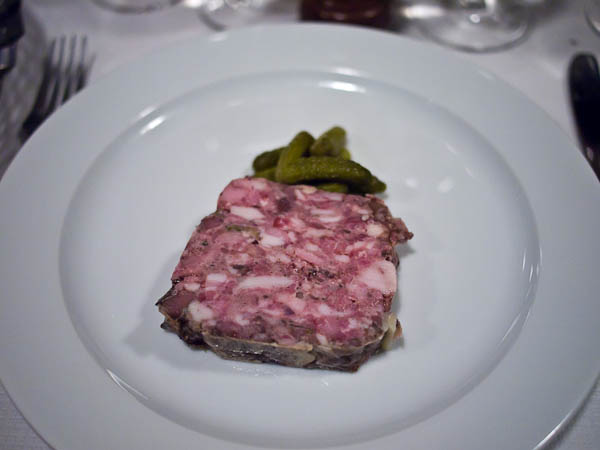 Next we had an offal terrine. It had a variety of bits and parts in it, and consequently was a study in texture as well as flavor.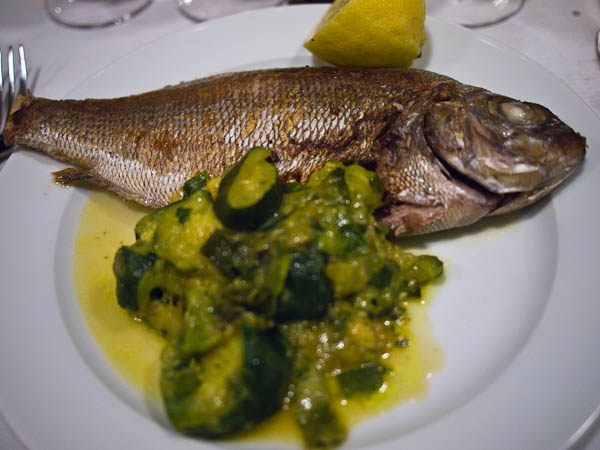 Sean had bream and courgettes for his main course. The bream wound up being a whole fish. Sean, who is much more adept at the table manners game, managed to essentially extract the fillets from his cooked fish without ever placing hands on the meat. The fish was obviously incredibly fresh and because Mr Henderson tends not to over-do things, it was gently seasoned so that the wonderful flavor of the fish itself could be savored. Sean pointed out that if more fish tasted like this, he'd eat more fish.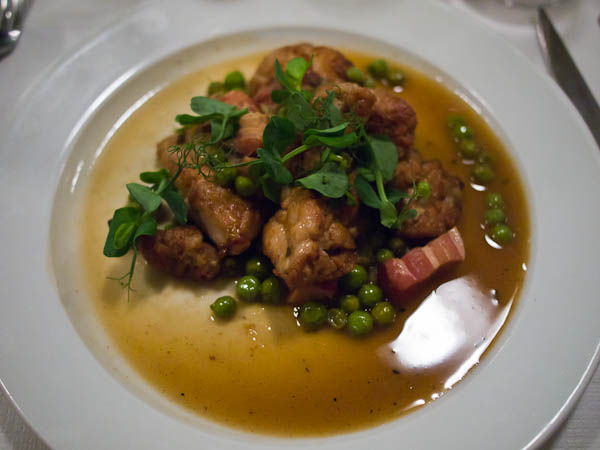 I wound up choosing the day's special, sweetbreads with bacon and peas. Everything was perfectly cooked, and tied together with a very light, slightly sweet sauce. With soft sweetbreads, salty chewy pork belly, and slightly crisp peas, it was utter luxury. It occurred to me only later that I hadn't really eaten anything that I hadn't eaten before. I am every so slightly regretful of that fact. Then again, it was one of the best meals of our trip, so who am I to quibble.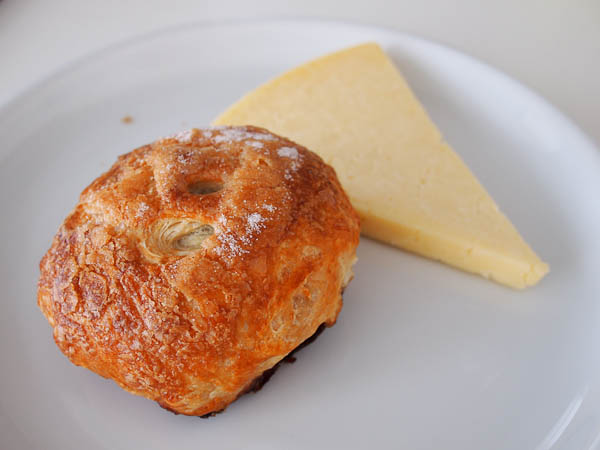 By this point, I was so full, I was afraid to open my mouth to speak for fear of what might come out. Luckily, our server fixed me up with a serving of St John's famed Eccles Cake with Lancashire Cheese to take home so I could enjoy it the next morning.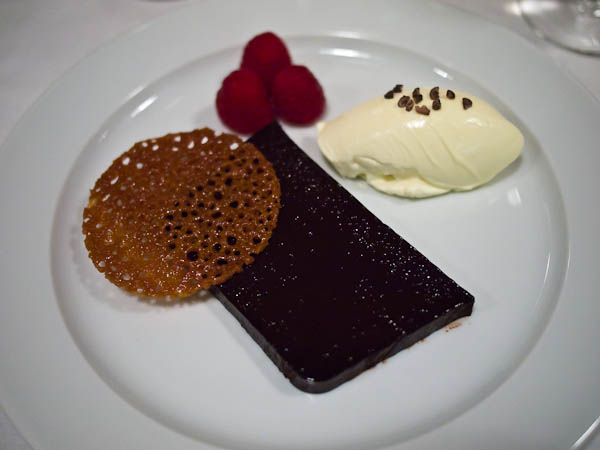 Sean, a firm believer that there is always room for sweets, had a very beautiful and rich slab of chocolate for dessert.
All told our meal at St John was a wonderful way to celebrate another year of marriage and an incredible London vacation.