Yeah, we're totally still talking about things that happened in March. But no matter, this one is worth talking about. Second Bar + Kitchen. It's part of a trio of what I'm certain are top notch eateries tucked into 200 Congress Ave, but this is the only one we've managed to visit. And we've visited it more than once. Part of our SXSW respite was to take a break in the afternoon to rest our weary feet and consume grown-up beverages. Second Bar + Kitchen proved to be a lovely oasis.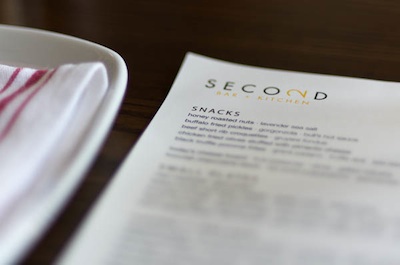 I don't want you to think for even a moment that the title of this post has anything at all to do with the restaurant. Seriously - it's just me. I am not good at balancing work life with the rest of life, and it shows in how much I'm not cooking and not writing. All that to say, restaurant good, hungry engineer baaad. Because it's been a bit since we've been down this way, my details will be a little sketchy, but I have to at least share with you what I can recall.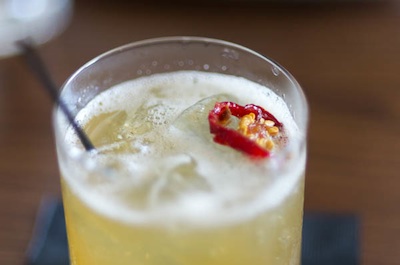 First and foremost - sit at the bar and try something new. There was not a single drink we tried that we didn't enjoy. The flavor combinations are inventive and the folks on deck seemed genuinely concerned with finding something you'll enjoy and ensuring your chosen libation is well-made.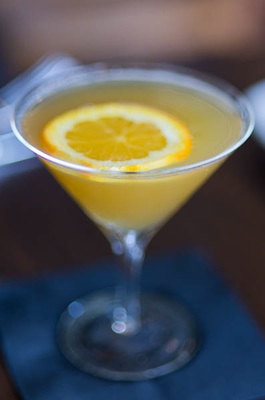 Here are a few of the things we tried:Havel's Transformer, a mixture of silver tequila, orange juice,house grenadine, hot sauce, and egg white;Red River Revival (a personal favorite), which consisted of Aperol, Carpano Antica, lime juice, and house grenadine;Oaktown Beat-Down (which is to say, a Mai Tai), Appelton Estate rum,Mount Gay Extra Dry rum, lime juice, orgeat, and Luxardo Triplum, and the Tennyson Tumbler - Strongbow, Tennyson Absinthe, and Peychaud's bitters.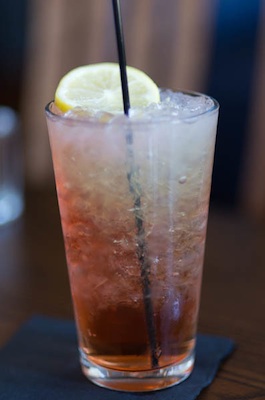 Scattered throughout in no particular order are photos of some of the drinks we enjoyed (and which may only minimally correspond with the drinks listed above - we've drunk here more often than we've photographed).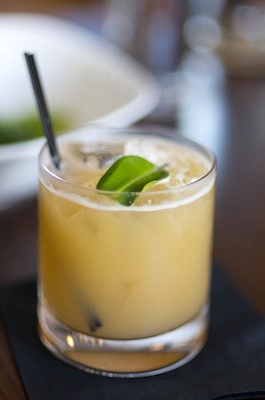 Not to be upstaged by the drinks though are the highbrow-end-of-casual dishes that are carefully prepared and prettily presented.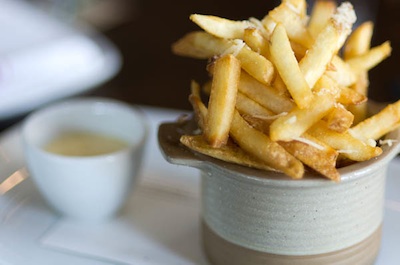 Our table-favorite was the Black Truffle Pommes Frites with grana padano and truffle aioli. The fries were perfectly cooked. and that aioli was a creamy-zingy bite of heaven, and all of it was consumed in a black truffle haze. The aroma was intense.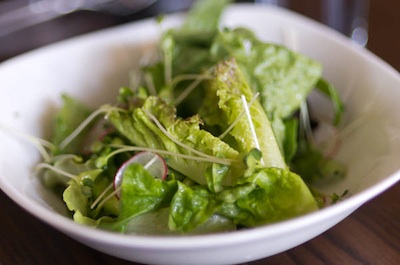 I have to admit, while the salad greens were tender and gorgeous, it was difficult to tear my attention away from those fries.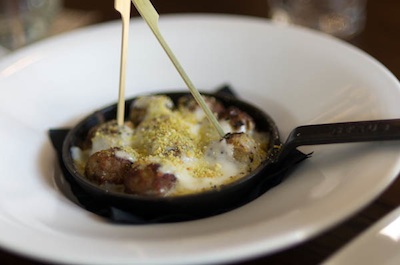 The Veal Meatballs "gremolata" were perfect little bites. The veal was tender and gently seasoned and the lemon added just the right kind of brightness.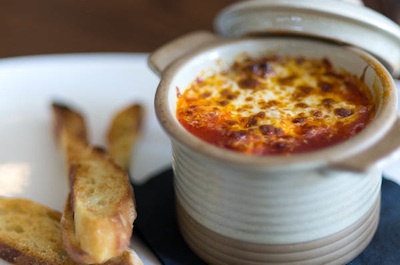 Sean was gaga for the Pepperoni Soup with garlic croutons. I had a bite too. it was rich and warm and like the very best parts of pepperoni pizza transformed into soup. I don't know how it would play with our current 100+ degree days, but in March it was divine.
While we didn't manage to photograph it, I think I had the winning dish of the evening - the Texas Benedict with poached eggs, pulled pork, and jalapeno corn biscuits all gently slathered in a spicy chorizo gravy.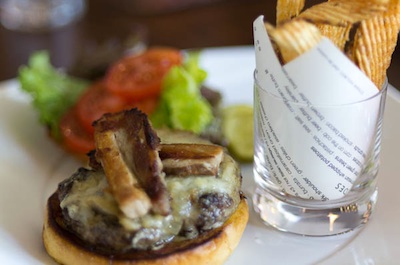 Sean was in love with his Congress Burger - house ground brisket and chuck with shallot confit, gruyere, greens and horseradish pickles. I got the impression it was amongst his favorite burgers in Austin. Unfortunately, he wouldn't stop eating long enough to confirm my hunch.
The menu is ever-changing, so we really need to make a point to go down and eat there again. While none of us are too keen to leave the house during the daylight hours right now, I'm guessing a late-night drive out to have fancy nibbles and pretty cocktails would alleviate much of the discomfort.
[![Second Bar + Kitchen on Urbanspoon](http://www.urbanspoon.com/b/link/1565253/minilink.gif)](http://www.urbanspoon.com/r/11/1565253/restaurant/Downtown/Second-Bar-Kitchen-Austin)