About a month ago now, we were invited to Fleming's downtown Austin location to check out their new menu additions. Sean and I have several times visited their north location for their very reasonably-priced happy hour, but hadn't experienced their proper sit-down menu yet, so we jumped at the chance.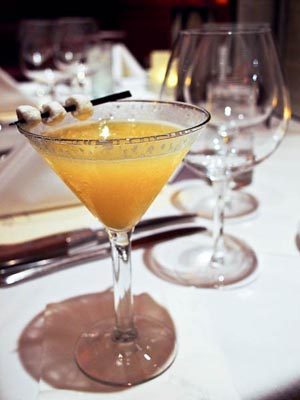 Unlike so many of the events I manage to get invited to, this one seemed more of an all-round media event rather than a more blogger-centric situation. For instance, we were seated at a table that included several folks that worked in television. I was feeling rather fish-out-of-water about the whole thing, and it only got worse when, owing to the fact that a food-blogger was something of a curiosity at our table, I became the unwitting center of attention for the first several minutes of our conversation.
Fortunately, I had a drink in hand (which was pleasant enough once I chucked the marshmallows), and everyone at our table was fun to talk with. And before long, we had several courses of food on which to focus our attention.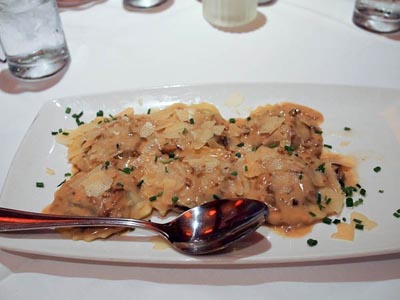 First up were the appetizers. Our hot appetizer was Roasted Mushroom Ravioli. I loved this dish. The mushroom flavor of the ravioli filling was intense, and the porcini butter sauce in which the ravioli were doused was wonderfully fragrant and rich. It's important to note that both our appetizers were served family-style for the entire table. I don't believe the portion size is quite so huge when you order these in the restaurant.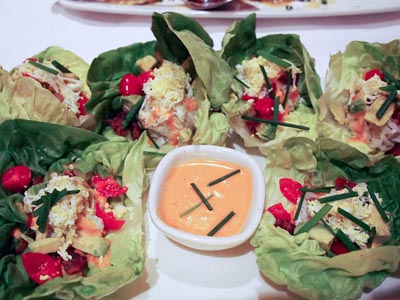 The cold appetizer was a Lump Crab Louis Wrap. Cups of butter lettuce leaves were filled with crap, avocado, bacon, egg, tomato, and chives. This was crisp, clean, and flavorful … and not nearly so filling as the ravioli. In fact, left to my own devices, I might be tempted to have a crap wrap or two to start a meal and then a plate full of ravioli as my entree.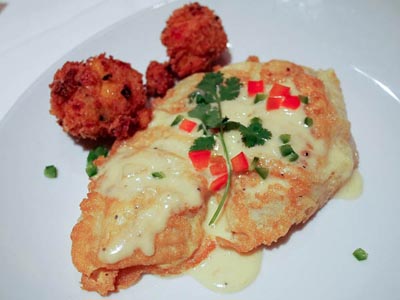 I am one of those deranged people who goes to a steak house and orders fish. It is almost never a good idea, and I've gotten better about ordering a steak now and then. However, I was foolishly looking forward to the next course, a Tillamook Bay Petrale Sole with crab beignets and lemon butter sauce. I was disappointed. The first bite of fish I took was nothing but a mouth full of bones. That's off-putting, but I'd have forgiven it if the dish had tasted good. The fish couldn't stand up to the sauce, and the sauce itself wasn't good. I will say that I wholly enjoyed the little crab beignets, so all was not lost.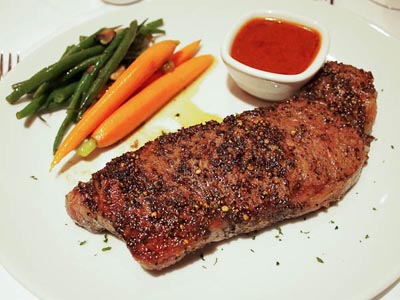 And they made up for it in spades with the next course, the more appropriate Peppercorn Steak, a prime New York Strip steak served with Fleming's "F-17" sauce. I'm a little curmudgeonly about dumping sauce on a steak, but here it works beautifully. The peppery steak (which was perfectly cooked to the medium rare I had requested, by the way) dabbed with just a bit of the F-17, a proprietary mix of seventeen ingredients, including molasses, honey, orange juice, and chipotle, is the perfect robust bite.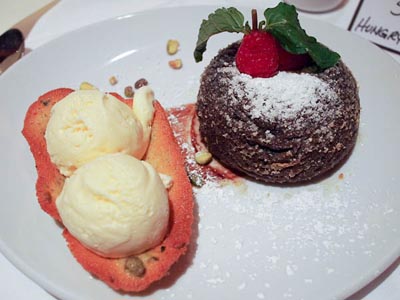 We were stuffed beyond comprehension at this point, but that didn't stop us from trying out the desserts as well. Sean had the Chocolate Lava Cake – a rich chocolate cake with a molted center. Cliché, perhaps, but Sean swears it was one of the best chocolate cakes he's ever eaten.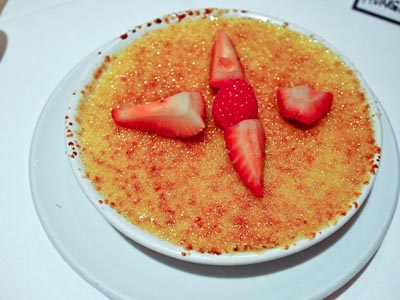 I had another tried and true favorite – the Crème Brulee. It was excellent. The creamy custard was topped with a perfect layer of consistently caramelized sugar. The fresh berries were a nice counterpoint to the rich custard.
Minus the fish, our dinner was a success, and I'd be tempted to go back to Fleming's for a proper dinner when finances allow. However, in the meantime, I'd urge folks to look into their happy hour deal. They call it 5 for 6 till 7 (and yet, I still have trouble remembering how late it runs). 5 cocktails, 5 wines by the glass, and 5 appetizers each for $6 till 7pm. They also serve their Fleming's Prime Burger for $6 during happy hour. Their burger, in particular, is quite tasty.