I didn't catch on to Top Chef at the beginning of its life cycle, and I didn't last beyond a couple of seasons before the drama seemed like it overtook the interesting cooking. In fact, the last season I watched was whichever one found Richard Blais and Stephanie Izard vying for the top spot. (I think there may have been others at the end, but for me, it was down to those two.) After watching them cook through that season, I'd happily try food that either of them had a hand in, and at least with Mr. Blais, I found my chance while traveling over the holidays. Turns out, there's a Flip Burger Boutique in Birmingham, AL.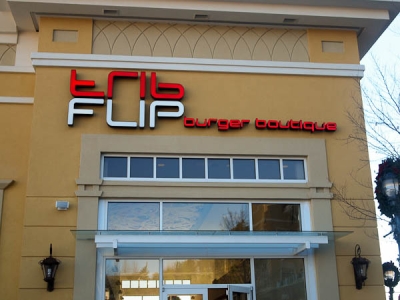 The restaurant, tucked into one of the area's fancier shopping centers, is clean-lined and modern, high ceiling-ed and bright. Blaise is listed as the creative director. Flip Burger Boutique's aim appears to be to modernize the burger, to elevate it to the level of fine dining. I don't know about all that - personally, I think Sean and I were drawn in by the shiny and very large tank of liquid nitrogen. You see that person standing directly behind the tank, showing the scale of the thing? Yeah, these folks are not screwing around.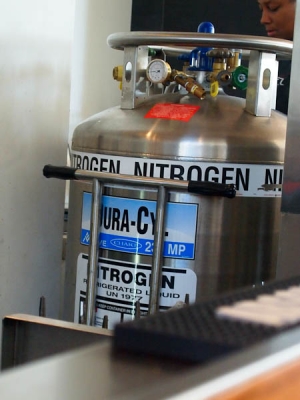 We slid into seats at the bar and watched the show. The wait staff nonchalantly dressed various desserts and drinks with ladles of bubbling liquid nitrogen. We watched as nitrogen steam rolled out of martini glasses. What else would we expect from a faux-hawked molecular gastronomer with a burger joint on his hands?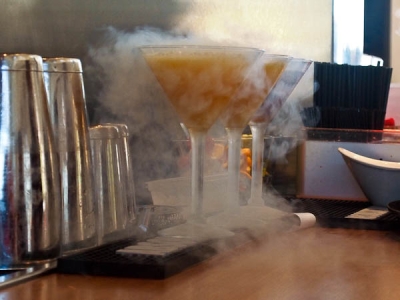 We did manage to eventually pay attention to our menu. One column featured beef burgers; a second column detailed flip burgers. Like the burgers, the sides, fried and fresh, are an odd combination of the expected and intriguing.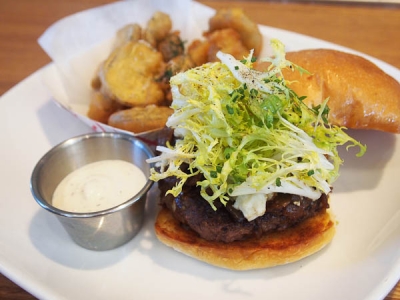 Sean wound up with a Beef Burger – the Butcher's Cut. It was topped with caramelized onions, blue cheese, red wine jam, pickled shallots, and delicate frisee. As a side, he ordered the Fried B&B Pickles with buttermilk ranch dressing. The pickles were excellent, providing a good balance between juicy, sour interior and crispy breading. While he loved his pickles, he was sort of nonplussed by the burger – good enough, but he's had better. It was decently prepared, but maybe a touch on the bland side.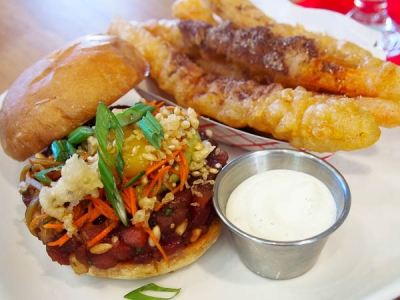 I lucked on out my choices – they were both superb. I chose the tempura sweet potato fries with chocolate salt as my side and the Tuna Tartare for my burger. The "burger" was small-diced tuna, wasabi mayo, pine nuts, asian pear, cucumber, avocado puree, and mango "yolk." With red tuna, green onions, yellow mango, and its smattering of other oddments, my sandwich was a messy, luscious, riot of color. The tempura sweet potatoes were incredible. Like a good tempura, the batter was incredibly light, but thick enough to hold up to the big wedges of sweet potato. The liberal dusting of chocolate salt seemed to amplify the sweet and savory elements of the tempura.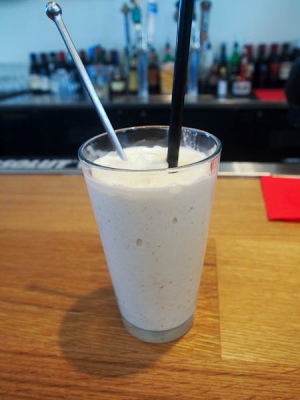 My great sadness in all of this is that I was completely full at this point and had no room to partake of the fascinating array of milkshakes on offer. I might have chosen the Pistachio and White Truffle, or perhaps the Foie Gras. For Sean, there was only one choice: The Krispy Kreme milkshake. It showed up steaming and bubbling as the liquid nitrogen it had been doused in evaporated. Once it was finished Sean had a sip. I asked him how it was, and his only answer was a look of intense happiness. I tried a bit. Sure enough, the texture was creamy and the flavor was pure Krispy Kreme.
If I could, I'd go back and work my way through the other Flip Burger offerings – particularly the oddball burgers and some of those oddball shakes. It probably isn't fair to say after one visit on a busy, post holiday day, but it seemed to work out that the more we strayed from the norm, the better prepared our food seemed to be. All I'm saying is that it may be worth it to try something other than the traditional beefy hamburger. It worked out well for me.