Our first night on our recent mini-vacation to Port Aransas, we snagged a reservation at Venetian Hot Plate. In doing my dab of pre-trip research, Venetian Hot Plate came up again and again and again as a recommendation. I was a little uncertain about a touch of Italy in coastal Texas, but figured, why not.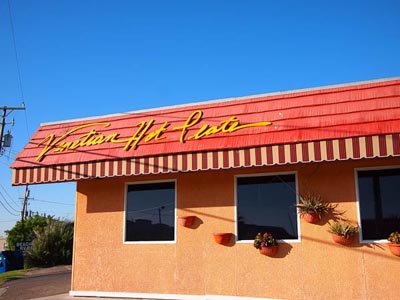 The restaurant is on the small side, and when we mashed ourselves through the front door for our late evening reservation and into the crowd amassed there, we both worried we'd made a mistake. It should have been one of those uncomfortable times when no matter where you stood, you always felt like you were in the way … and I assure you, we were very much in the way. But every waiter who danced around us smiled and apologized and assured us a table would be ready soon. They did their best to make us feel welcome.
The main dining area was warmly colored and full of people … and very loud. There were measures in place to try and dampen the sound, but even so, it was difficult for Sean and I to hear each other across the table. Soon enough though, we wouldn't care at all about the crowd and the noise and the mildly uncomfortable wait at the beginning.
Have you ever eaten something and been almost instantly crushed with sadness that you'd never be able to eat anything like it again? I admit, it's a stupid reaction, but sometimes my logical brain loses to my emotional one. A few years ago now, we spent a couple weeks in Italy. I wish I had been food-blogging at the time if for no other reason than I would have had a more specific record of some of the amazing things we ate. One evening in Rapallo, along Italy's Ligurian coast, at a little trattoria where very little English was spoken, we had the most amazing plate of seafood pasta I had ever eaten. It was ridiculously fresh and flavorful, and as I closed my eyes and focused on the flavors of the sea, I felt that odd wave of sadness wash over me. Never again would I have food like this, I thought, not without coming back here. I was wrong.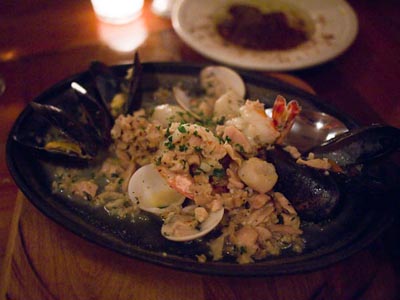 For our first course at Venetian Hot Plate, Sean wisely selected the Misto Mare, a mad array of mussels, clams, scallops, and other seafood bits and pieces. Each piece of seafood was perfectly cooked, and unfailingly flavorful and tender. The puddle of buttery seafood nectar at the bottom of the platter was infinitely sop-able. Thankfully, a basket full of bread kept us from fighting over who got to lick the pan. As we ate, we looked at each other and smiled. For a few short minutes, we heard the vibrant, musical Italian chatter and smelled the sea in the air and were back in Italy again.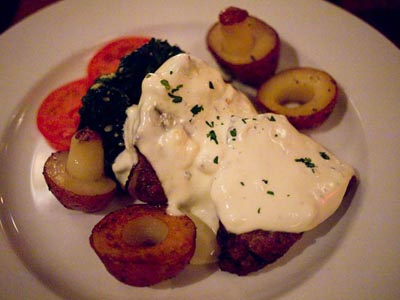 Sean chose the Filet Medallions in Gorgonzola Cream Sauce for his entree. They were served with roasted potatoes and a tangle of garlicky spinach. Of course, the filet was well-seasoned and cooked medium-rare, as Sean had specified, but the real revelation was the sauce. I hear the words "gorgonzola cream sauce" and I think heavy, thick, overpowering. This one wasn't. The gorgonzola flavor was there and it beautifully complimented the meat, but the sauce itself was delicate, clinging prettily to the meat without taking over with its blue-cheese brashness. The potatoes were well-roasted and delicious, but the spinach would have benefited from a bit more seasoning.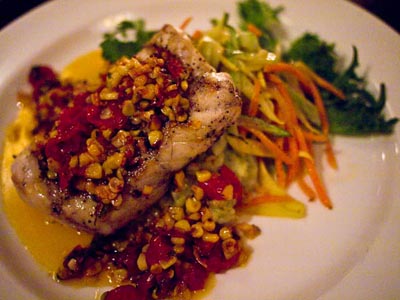 I was completely in love with my dish. I chose the Grilled Snapper with Avocado Risotto. The snapper was topped with roasted corn and bruschetta-flavored tomatoes with shreds of squash on the side. I was in heaven. The snapper picked up with smoke and flame of the grill perfectly, and the seasoning was perfect. The avocado in the risotto gave it a lovely green color and an almost buttery flavor – excellent texture too. The smoke of the grilled snapper with the buttery risotto and the tangy tomatoes made for a beautiful and well-balanced bite. Again, my squash suffered a bit for lack of seasoning, but it hardly mattered. I was so full after everything else, it didn't hurt my feelings to leave the vegetables.
Venetian Hot Plate absolutely has my recommendation for places to eat when visiting Port Aransas, and it's certainly a lot closer than Italy, at least for us. This was easily my favorite of the places we at while in Port Aransas.