It all started at a ham and bourbon party (the best things always do). We overheard someone talking about their friend's new trailer. That he was serving Asian street food type items and that he was thinking of branching into molecular gastronomy techniques. All from his little trailer. Naturally, we were curious, so one fine weekend not long ago, we headed over to the east side to check out Not Your Mama's Food Truck.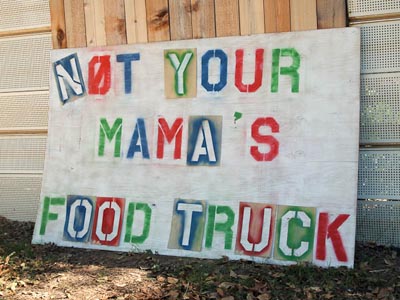 When we pulled in and wandered up to the small, undecorated truck, a harried but friendly young man popped his head out and warned us there was a bit of a wait. Cool by us, we weren't in a hurry to get anywhere, and the hand-written menu looked intriguing. We ordered our food and took a seat at a nearby picnic table and watched the mayhem.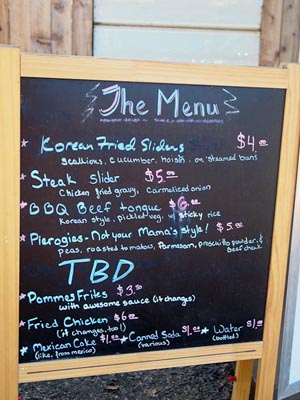 This young man's name was Ron Chadwick. He was supposed to be cooking it up at Uchiko, but staffing alterations made it such that he never actually started. Instead, we get Uchi/Uchiko-level cooking from a one-man-show in a trailer.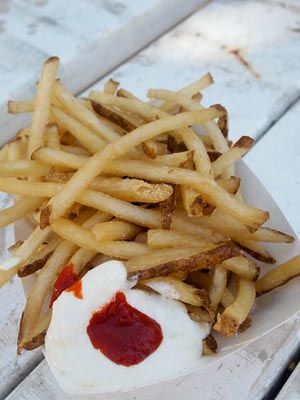 Our experience was pleasant. It was like hanging out in someone's back yard and them cooking for you. He'd pop out every so often and tell us what he was doing, make friendly conversation. We ordered his pommes frites to tide us over till our food was ready. They came out perfectly crisped on the outside, light and fluffy on the inside, and were brilliant served with cucumber-mayo and dab of Sriracha on the side. And the serving of frites was huge. We munched on them before, during, and after our meal.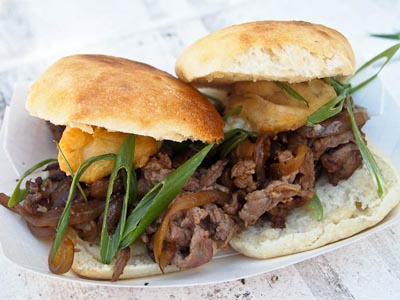 Sean ordered the Steak Slider with chicken-fried gravy and caramelized onions. The tender bread encased even more tender meat, and the chicken-fried gravy melted into the mix offering up bite after luscious bite of meaty, sweet, gravy goodness. As his food came out first and he was kind enough to let me have a bite, I was forced to covet his sliders until my dish came out.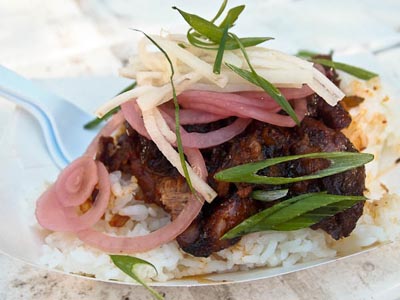 Luckily it followed shortly thereafter. I ordered the BBQ Beef Tongue, Korean style with pickled vegetables and sticky rice. At the first bite, I no longer cared about Sean's sliders. The tongue meat gave way to my fork almost before I even touched it. And the concentrated beefiness of the meat was brilliantly paired with a smoky-sweet glaze. The tartness of the pickles balanced the sweetness nicely and a knot of sticky rice to helped make sure all that sauce found its way to my mouth. There was lots of smiling and mmmmm-ing coming from our little picnic table.
Ron was so friendly, that I uncharacteristically interacted with him beyond the ordering of food. Turns out, as he's a one man show, he's dead-tired a lot of the time, which can make creativity difficult. Also, it can make his schedule a little variable, so if you're coming from far away, check in to make sure he's open for business. He's interested in bringing molecular gastronomy applications to his trailer, but it sounds like he's still working out the kinks.
No matter what comes out of this trailer, I'm looking forward to it. The food here is excellent. My advice: get over your worries and eat some tongue. Just don't forget to bring cash.