It's been a while. A lot has happened. For one, I got a job. You'd think that with the gift of a solid two years to work out what I really wanted to be when I grew up, I'd have figured something out. But you'd be wrong. I'm back to doing the same kind of engineering job I've more or less always done. And because the group I joined had undergone some staffing issues in the recent past, I think I was part of the company for about five minutes before I was completely overwhelmed with the amount of work that had been assigned to me.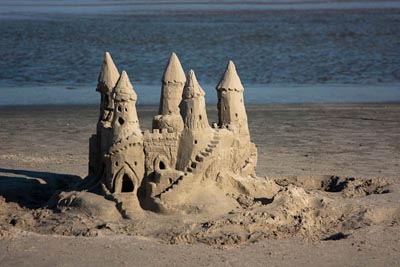 What else has happened? We've made the tough choice to cease chemotherapy treatments and let our oldest cat, the first cat we adopted together, the cat who two and a half years ago was diagnosed with intestinal cancer, live out the rest of his kitty days in relative comfort. Of course, the first thing he does after that is pick a fight and get his eye scratched. Instead of enjoying long days snoozing on our bed, he's stuck in a plastic cone so he doesn't further injure his horribly infected eye.
Not enough yet? We discovered that my husband has a heart condition. After several visits to a less-than-helpful specialist, we've surmised that it's not immediately life-threatening. Instead, we'll be monitoring the condition going forward to make sure it doesn't get worse. I'm sure the doctors are all very smart, but they've not taken the time to explain this to me in any way that makes me understand why this defect that he's apparently had since birth is suddenly symptomatic. And I'm far from reassured that things won't progress. Unfortunately, there's no real choice but to wait and see how things look after more time has passed.
With all this going on, we did the only thing that made any kind of sense. We went on vacation. Unless you count visits to family over the holidays, we haven't had a vacation since we went to Hawaii. We boarded the cancer kitty, packed a few things, and headed to the Texas gulf coast for the weekend. Our laptops stayed at home.
Port Aransas (Port A to the locals), a quiet little island town just outside of Corpus Christi, was exactly the antidote to the stockpile of stress we had built up. As it was the first week in October, there wasn't much going on (their high seasons are spring break and the summer), and the weather was perfect.
On the recommendation of a friend, we nailed down a resort-esque condo to stay in with convenient boardwalk access to the beach. It was perfect. In the afternoon, we'd have a lazy soak in the pool. Later, maybe we'd mosey out and take a walk on the beach.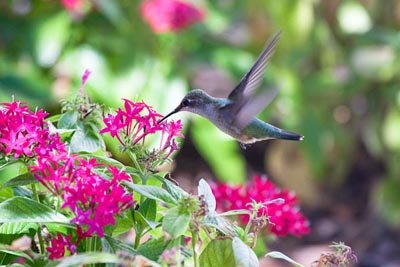 It turns out, when you plan to do nothing, nothing can become very interesting. We spent an unbelievable amount of time watching birds. All around our condo were planting beds full of flowers that appeared to be laced with hummingbird crack. They were everywhere. Sean spent quite a long time chasing them with a camera before he finally got a shot he thought was "okay."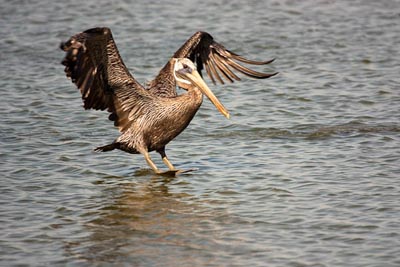 We watched a pelican fishing at the Leonabelle Turnbull Birding Center. While there, we saw a variety of other water birds as well as a busy little nutria digging around in the reeds.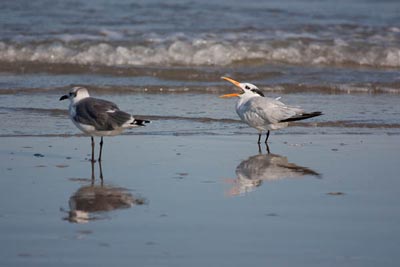 And of course, we watched the gobs of seagulls and their sometimes curious interactions while we sat around on the beach. There's a whole gulf full of fish for them to eat, and yet, if one of them caught a fish, the other seagulls stopped everything and chased the one with the fish. It was a very strange dynamic.
Like I said, we really had made up our minds to do very little.
We did manage to eat quite a lot, of course. That may well be the only thing I researched much at all before trucking down to the coast, and even then, I didn't try very hard.
Our first night, we went to Venetian Hot Plate (heads-up: annoying audio track), easily the favorite of our dining experiences. Expect more on this one in the near future.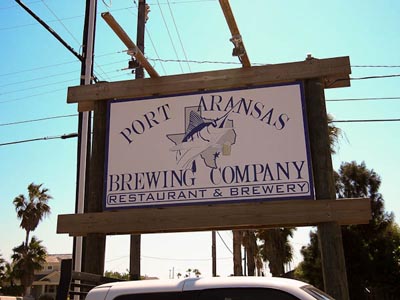 The next day, we popped in for lunch at the Port Aransas Brewing Company. I have found in the past that hitting a brewery for a meal is a pretty solid bet. It was true this time as well. My Hooked Up Hefeweizen was bright and fruity, and Sean seemed pleased with his … well, I can't find it on their menu, but I think it was some sort of brown ale. At any rate, we enjoyed the beers we tried. We split some serviceable chips and queso and each had a burger. The burgers were reasonably well-prepared, and the meat was obviously good quality, but it could have used maybe a touch more seasoning for my taste. Also, we had the option of choosing sweet potato fries instead of regular fries with our burger, and the Port A Brewing Company sweet potato fries are pretty darned delicious. All-in-all though, not a bad lunch.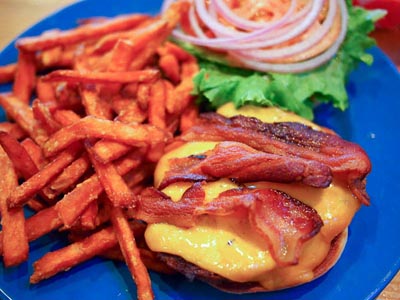 That evening, we popped into Shell's for dinner. Fair warning, Shell's is tiny and doesn't take reservations. We were really in no rush, so we didn't fret when we were told we'd have to wait a half hour to be seated. Unfortunately for us, the mosquitoes in Port A are different from the ones in Austin. In Austin, you don't even realize the mosquitoes are biting you till later on when you develop the telltale itchy red welt. In Port A, they hurt on the front end as well, and I assure you, they show up with their friends.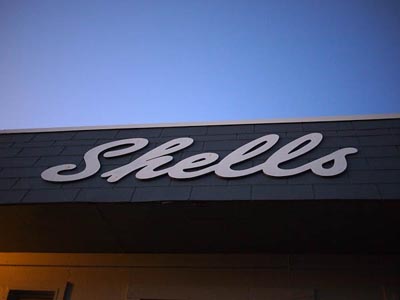 After an unpleasant 30 minutes of swatting mosquitoes (let this be a lesson to the rest of you – wear bug spray, even to the restaurant), we were unceremoniously seated right next to the swinging door to the bathrooms. I understand, the place is small. If our waitress hadn't been wearing such a sourpuss, I'd have been more forgiving.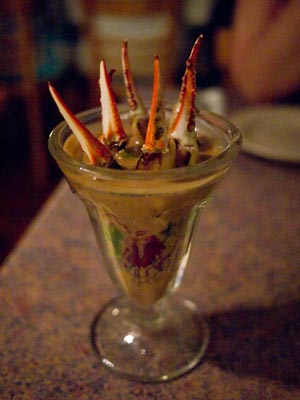 Luckily, our appetizer of Marinated Blue Crab Fingers was delectable. The "fingers" were standing at jaunty attention in a pool of tangy mustard-based sauce. I thought it would overpower the delicate crab, but whatever they were marinated in brought out the intense sweetness of the meat and the mustard provided an almost shocking counterpoint.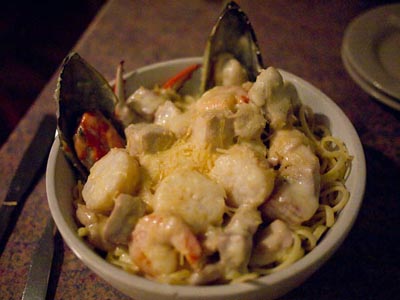 Our palates were all jazzed up at that point, so it was perhaps an error in judgment to order the Mixed Seafood over Linguine in a Traditional Alfredo Sauce. The seafood was obviously of excellent quality, but the sauce was mild to the point of blandness. Sean shook his head at me as I repeatedly salted and stirred in a desperate attempt to coax more flavor out of the dish.
While I wasn't a fan of their Alfredo, their menu looked incredible, and I'd be willing to go try different items based on the strength of those crab fingers alone. I'd just be sure to spray myself down with bug spray before I went.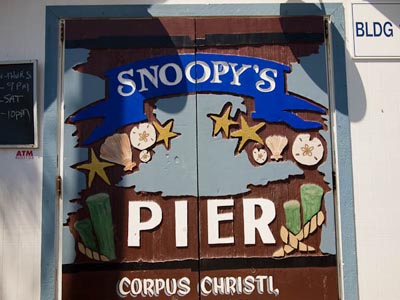 On our way out on Sunday, we stopped to Snoopy's Pier (again with the annoying audio track). It looks tacky and touristy, and it probably is, but I hardly cared. We sat in a comfortable dining room, enjoying a pleasant breeze while we waited for our food. And once it arrived I was in fried-seafood heaven. Sean had a fish and oysters and shrimp. I, heavy with the craving, chose a big basket of fried shrimp. It was delicious. Their seafood is fried light and crisp, and they have their technique down pat. Each piece of seafood seemed to have been cooked to the exact right degree of doneness. I was particularly enamored with the shrimp. Sweet and crunchy and not even remotely rubbery, I would recommend these to anyone I know.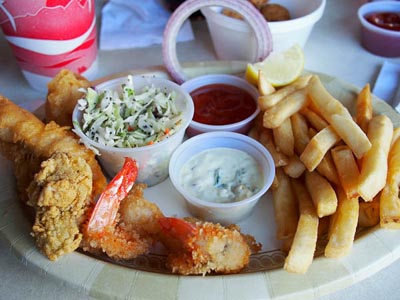 The other interesting thing we noticed about our trip to Port A is that the drive really didn't seem that bad. For those of you unfamiliar with the scale of Texas, it generally takes a number of hours to get anywhere else in the state. Austin to Dallas – three hours, Austin to Houston – two and a half hours. Austin to Port A took about four hours, but because the traffic wasn't the dense, intense affair of other trips (I'm particularly thinking of the drive up to Dallas on I-35), it really just didn't seem that bad.
We arrived back in Austin refreshed and relaxed and ready to face a sick kitty, a crazy job, and a prematurely misfiring ticker. That refreshed feeling wore off pretty quickly, but that doesn't change the fact that Port A was a pleasant, quiet place to unwind for a weekend.