I swore when I started writing about our trip, I wasn't going to torture folks with a play-by-play of our vacation, but it seems I haven't done a very good job. Unfortunately for you, I'm too far in to quit now! Luckily, in my weariness, my notes are much more sparse through the remainder of the trip.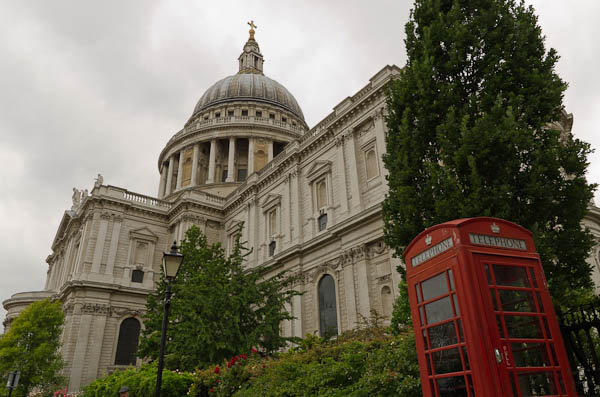 We started our anniversary morning at St Paul's Cathedral. I will not lie; our cathedral experiences were starting to feel a little redundant. That said, each that we visited was also radically different. For instance, St Paul's lets the light in much mores than Westminster Abbey, and consequently, there was a bright, airy feel to the place rather than the more somber mood of the Abbey. That said, its list of famous corpses was much smaller. William Blake is laid to rest there as well as Christopher Wren. We climbed to the top of this one too and saw the view of the city from the top viewing platform of the cathedral.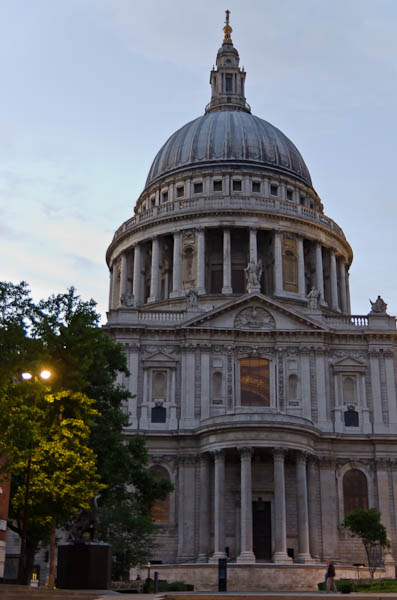 We had an incredible lunch of Beirut street food at Yalla Yalla (more on this later). Our intention had been to go to the Photographers Museum after this, however, when we got over there, we found that it was undergoing a major restoration and wouldn't be open again till later on this year.
Instead, we headed over to Neal's Yard so Sean could snap some photos and so I could visit Neal's Yard Dairy. Just walking into the cheese shop, we were overwhelmed by the aroma of cheese. As we headed in, several young girls came rushing out, noses pinched between thumb and forefinger. After a few short minutes, a cheese monger took our indecisive and uneducated selves under his care and guided us through a tasting of a handful of remarkable local cheeses. We left with small wedges of three gorgeous cheeses and a sense of accomplishment.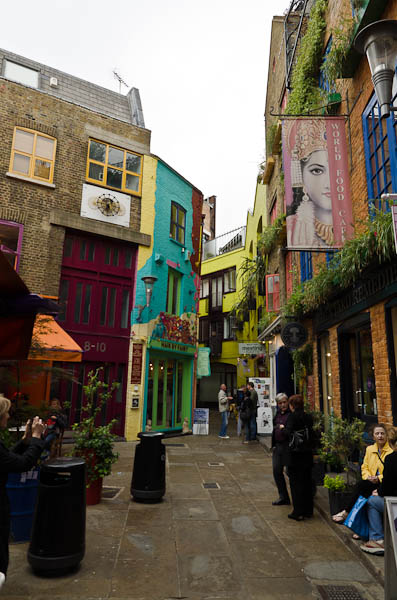 Our afternoon of dining and nibbling had left us a bit of the full side for our main attraction that evening - St John. I had been prattling on about eating at Fergus Henderson's restaurant from the moment we began thinking of taking a trip to London. The restaurant did not disappoint, but of course, I will (try to) write up our experience there more thoroughly soon.
The next day was gloriously uncomplicated. We started by visiting Speakers Corner in Hyde Park. It's meant to be a place were people get up on their (sometimes literal) soapbox and pontificate on all manner of political and social topics. The real allure, we'd read, was the banter that often sprung up between the speakers and their hecklers. Sean and I were both pretty jazzed about it. Unfortunately, and maybe this isn't always the case, when we were there, the speakers seemed to universally have a religious agenda. We did not stay long.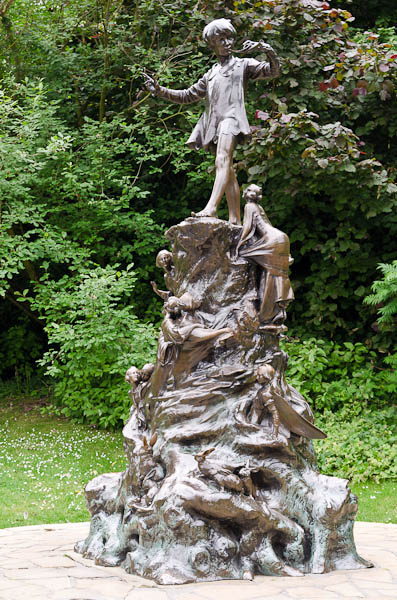 We spent our day wandering in parks and looking at fountains and moseying through the streets of London. We did take a crack at visiting Harrods and experiencing their incredible food court. The selection of goods available for procurement was indeed impressive. The crowds, however, were so madly bustling that it was difficult to really enjoy the experience.
On our to-do list while visiting London was to sample a bit of the local cocktail scene. We had a list of places that we might be interested in trying, but as it happened, only one of those places was open on Sunday. We finished out our evening at the tiny bar with no name at 69 Colebrooke Row.
A theatre experience was also on our to-do list, so the plan the next day was to line up early at The Vaudeville to see if we could score day tickets to that evening's showing of In A Forest Dark and Deep by Neil Labute - a two-person play starring Matthew Fox and Olivia Williams. For about ten pounds each, we wound up with front row seats to see the production.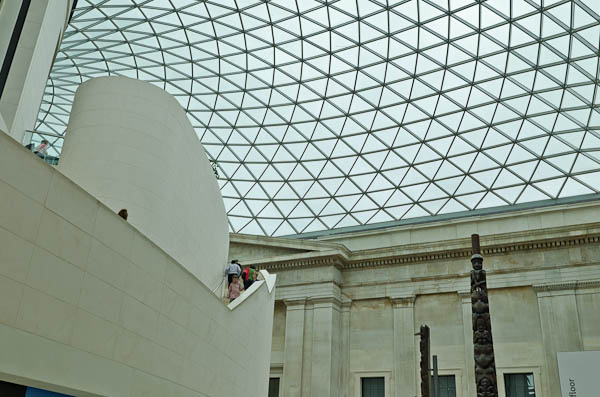 We spent our afternoon at the British Museum. I can't even begin to explain the immensity of this place or the sheer diversity of the artifacts contained therein. I swear to you, we could have spent a week touring different parts of this place and not exhausted its offerings. As it was, we spent a few hours meandering through a list of highlights, taking regular side trips to see random items that struck our fancy.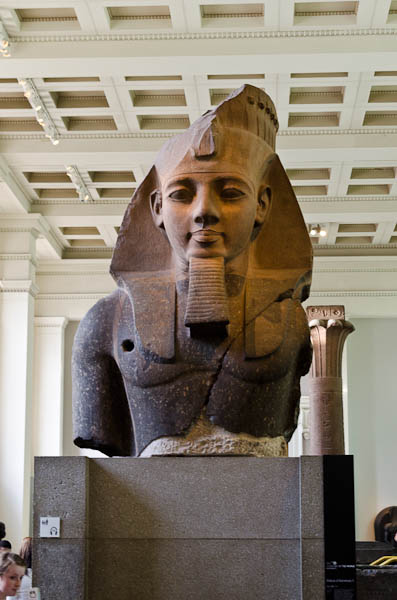 Slow starts to our days were becoming something of a pleasant habit at this point in our trip. We dickered around our apartment then went for a full English breakfast at a place called Canteen. Huge plates of eggs and sausage and tomatoes and potatoes landed in front of us. It was all we could do to finish. We spent part of our time at breakfast trying to decide how much or how little of the whole changing of the guard thing we cared to see.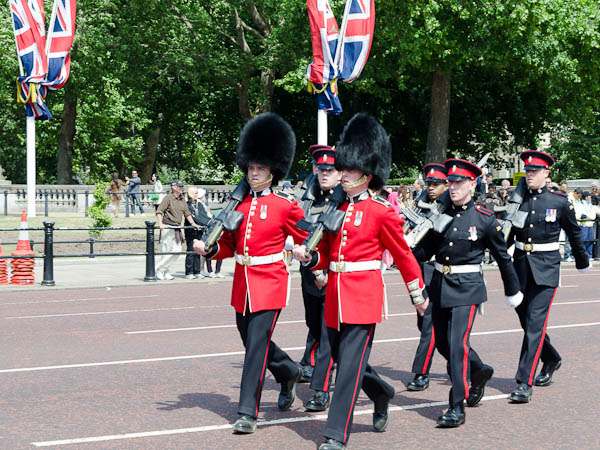 We had wandered past Buckingham Palace before and it was truly a madhouse, so we decided to head over to see the Queen's Life Guard at the Horse Guards instead. Beautiful and amusingly antsy horses were topped with tidy-uniformed, shiny-hatted guards. We watched them stand at attention for while, observed the guard change and then headed out.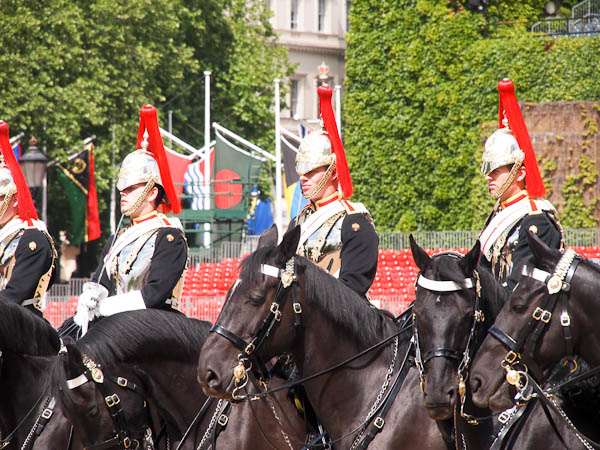 Our next stop was to visit the Churchill War Rooms. As a US citizen, my perspective on war is that it's a horrible thing that happens in other places. Our soldiers cross oceans to fight wars. Our leaders can make decisions from their quiet offices, can sleep in their own beds at night. World War II tore through Europe. Churchill did his leading from an underground set of rooms. And when he slept, it was on a narrow bed underground with the calamity of bombs and air raid sirens serving as alarm clocks. The War Rooms, filled with various pieces from the period, were a fascinating view into subterranean war-time living and working. The accompanying Churchill museum provided plenty of insight into a complex and effective war-time leader.
After we were through with World War II, we met up with our friend Laura and had cream tea. Amusingly enough, this is the only time we had tea in London. There are two ways to have a proper tea. High tea is (I'm told) a fancy affair filled with finger sandwiches and delicate petit fours and is generally considered to be an actual meal. We had a cream tea which is essentially an afternoon snack of clotted cream and scones served with tea. If you read about English teas at all, you'll find out that they vary somewhat from region to region. The thing I learned from this was that clotted cream is delicious, and I would very much like to try to make some at home.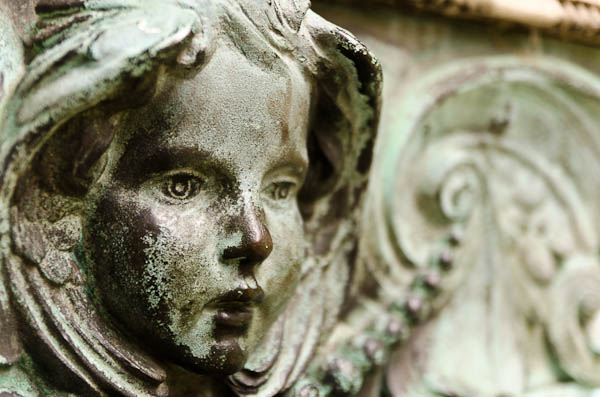 Our well-fed trio headed to a local grocery store and stocked up on golden syrup and treacle. I had been sort of disappointed that there was no black pudding to be had for breakfast, and after complaining about this to Laura, she found pre-made black puddings at the store that simply had to be pan-fried and eaten. Sold! I'd have breakfast at home the next day. Black pudding is essentially a sausage or meat cake which uses blood as a binder. The Germans have their blutwurst, the French their boudin noir, and the Spanish make morcilla. The UK's black pudding seems to be a very grain-heavy affair, with the blood binder taking something of a back seat and the flavor generally being rich but uncomplicated. To me, it seems the best kind of comfort food - flavorful and filling and undemanding. (Despite how frequently I described it as such, Sean was absolutely unwilling to try it.)
We eventually made our way to Purl Bar, our next cocktail destination of the trip. We were tucked into one of the bar's many quiet corners and enjoyed several of their incredible cocktails before parting ways with Laura and heading to the apartment to get our black pudding in the refrigerator.
Later that night, while wandering around town, we followed our noses to a very lovely dinner. At San Xia Ren Jia, we enjoyed a sizzling platter of twice-cooked pork, rich and lightly sweet Spare Ribs with Glutinous Rice (good, but not nearly as good as the twice-cooked pork), and a garlicky, piquant pile of perfectly cooked green beans. Our waiter couldn't have been nicer as he helped us make our choices and brought our food.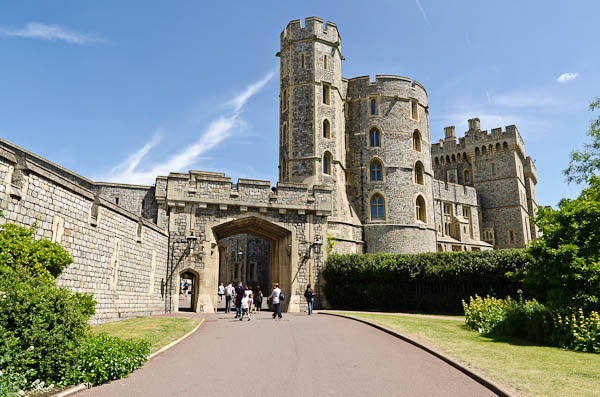 The next day, after frying up a delicious disc of black pudding for my breakfast (sprinkled lightly with salt and served alongside some toast and an over-easy fried egg), we headed out to catch a train to Windsor. Windsor Castle, still a royal residence, is a sprawling, beautifully manicured affair. I most enjoyed wandering around inside the castle grounds. The structures are stately and well-kept and the gardens are absolutely breath-taking. We did take the time to see the doll collection and the impressive state rooms.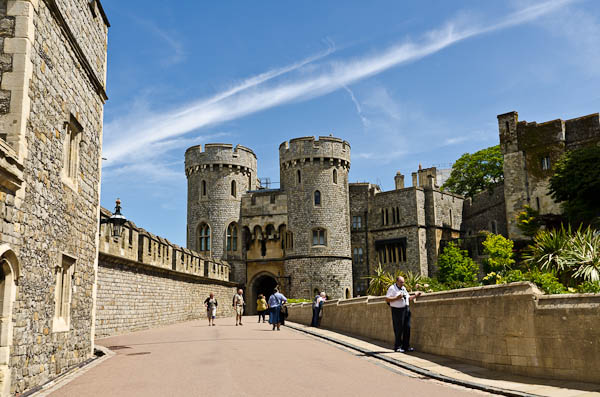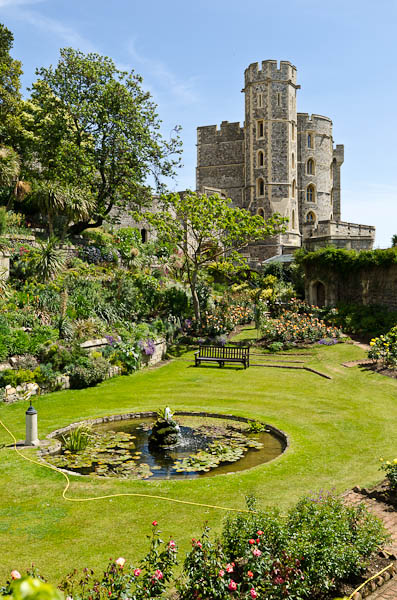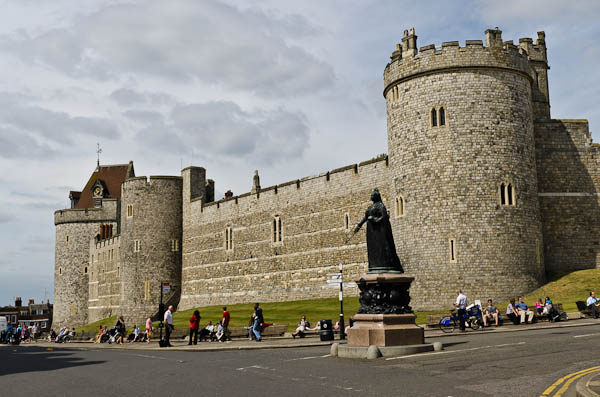 Shopping was on the agenda for that afternoon, so once we were back in London, we headed over to the Whiskey Exchange to take a look at their liquor offerings. The array of goods was impressive, but what really caught our collective eye was the bitters they had on their shelves. Silly though it may seem, we left the place with a bag full of nothing but bitters.
Next we headed over to Foyles, a huge and well-stocked book shop. My aim here was British-style cookbooks. Naturally, there were plenty to be had and after choosing several and browsing longingly through their travel section, we headed out for dinner. We hadn't had too many meat pies yet, so we headed out to the Newman Arms. We had pints and fluffy pastry-topped pies of stewed meat (steak and kidney for me). The vegetables served alongside were crisp and delicious - the perfect foil for the rich stew. I don't know if this is universally true, but at least at the Newman Arms, those pies were immense. I ate to discomfort and still it looked like I hadn't eaten even half of my meal (I did, of course, finish my pint).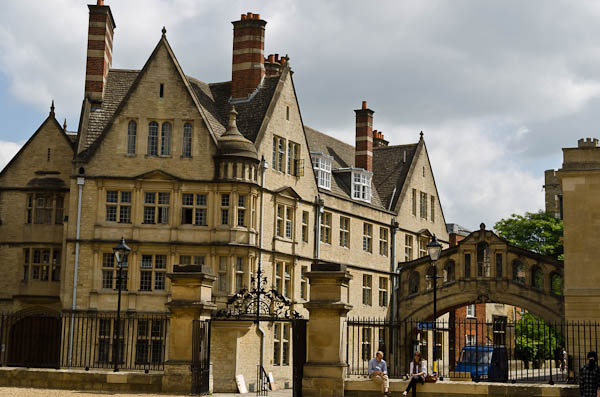 We punked out on our outing for the next day and decided to book a last minute tour to see Oxford, Stratford-Upon-Avon, and Warwick castle. This tour was everything I don't like about organized tours. The tour group was huge, and I constantly felt rushed. That said, the tour operator was courteous and the buses were punctual, so it certainly could've been worse. Oxford was beautiful, and I wish that we had decided to spend our whole day there. We did get to wander through Christ Church and see a bit of the town, but it was really only a small taste of what we could have seen.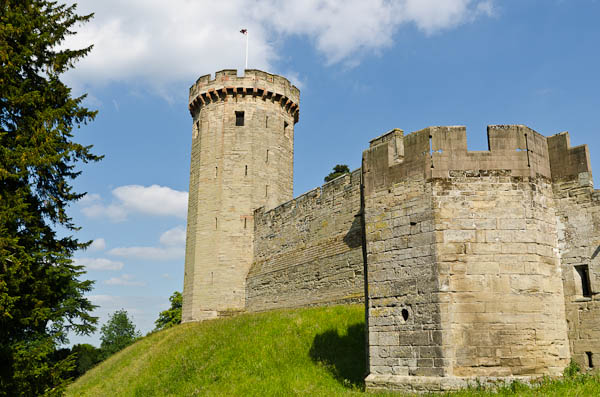 Our meal that evening was one of the best of our trip. Laura and Latch took us to their very favorite Indian restaurant in town, Simply Indian. Among many other delicacies, I was introduced to whitebait, tender little fried fishes which would, if folks were willing to eat them, make excellent bar food.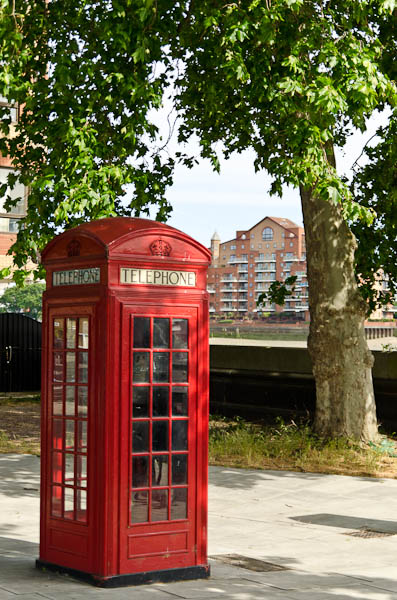 We started our morning at the Museum of London to see their Street Photography Exhibit, which Sean seemed to particularly enjoy. Then we headed toward St Paul to see the old Routemaster double-decker bus. We had the passing thought that we might hop aboard, but seeing it from the outside seemed more fun. Next on our list was to see Kings Cross and St Pancras station. Kings Cross is undergoing renovation and was a colossal letdown to those of us who are a bit Harry Potter obsessed. St Pancras, on the other hand, was beautiful - immense and full of light. After this, we made our obligatory purchases of unique and interesting liquor that we couldn't get in the States. After dropping this off, we tried Trailer Happiness, a place filled with wonderful rum-based goodness, tacky-in-all-the-right-ways decor, and incredibly welcoming staff. Finally, we celebrated our last night in London with a long walk along the waterfront across from Big Ben and Parliament for some nighttime photos. Frantic packing ensued thereafter.