Ages ago, I decided to deal with my incurable cookie habit by trying to make a cookie that wasn't pure sugar and flour and butter (though those are utterly lovely). The likely candidate was an oatmeal cookie, but my problem with most oatmeal cookies is the inclusion of raisins. Sure, they could be omitted, but that makes for a rather dull cookie. Eventually, we wound up at chocolate chip oatmeal cookies.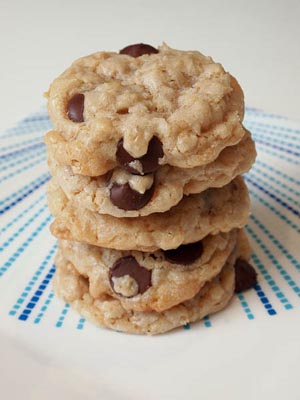 What's great (and probably terrible too) about this recipe is that you can go from craving to cookie in about fifteen minutes. A batch of these comes together very quickly and consists entirely of things most people probably have in their refrigerator and pantry. That said, we don't make these cookies because they're easy; we make them because they're delicious.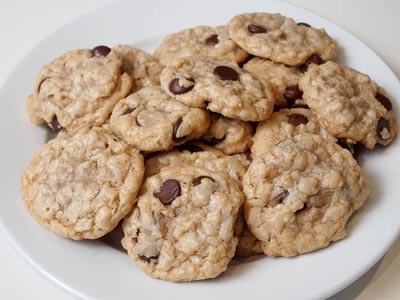 Sean and I eat these like they're going out of style. I may be able to claim that they're relatively nutritious cookies, but two of us eating a batch of 24 in the space of a day or two may not be the healthiest approach.
CHOCOLATE CHIP OATMEAL COOKIES
_adapted from _[_Recipe Source_](http://www.recipesource.com/baked-goods/desserts/cookies/chocolate-chip/01/rec0106.html)
½ cup white sugar
½ cup brown sugar (light or dark, your call)
¾ cup oil (I usually use canola)
1 teaspoon vanilla extract
1 large egg
1 cup (4 ½ ounces by weight) all-purpose flour
1 cup rolled oats
1 teaspoon baking powder
¼ teaspoon (rounded) coarse kosher salt
2/3 cup chocolate chips (our preferred chips are Ghirardelli 60% cacao)
Preheat the oven to 375 degrees (F).
Combine the sugars, oil, egg, and vanilla in a large bowl and mix till thoroughly combined.
In a separate smaller bowl, toss together the flour, oats, baking powder, and salt, stirring to evenly distribute the salt and baking powder.
Mix the dry ingredients into the wet, and then fold in the chocolate chips.
With a #40 purple disher, portion cookie dough out on two parchment- or Silpat-lined baking sheets, twelve cookies to a sheet. Bake in the top and bottom thirds of the oven for nine to twelve minutes, allowing the edges to brown slightly and tops to firm up. Rotate the sheets top to bottom and back to front about halfway through baking.
Cool in the pan for a minute or two, then move to a rack to cool completely.